Dean P. Serneels
Inventor/ Bartender
Flairco Inc.
"MR SHOW" Toby Ellis Flairbar magazine
"Good bartenders concentrate on service skills and drink making techniques. Great Bartenders prepare excellent drinks with a little show and do not miss a beat in thier service."
Dean Serneels
Dean Serneels is the President and Founder of Flairco Inc.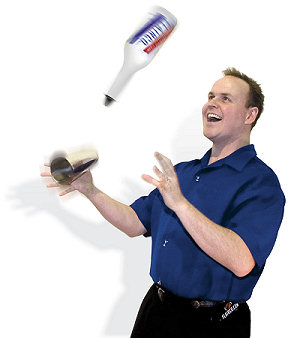 Dean is an award winning flair bartender with many podium finishes, trophies and top accolades from the bartending community over the past 20 years. Dean is the inventor of the Flairco Flair bottle, the Flairco portable bar and has produced a set of four award winning bartender training DVD's.
Also a founding member of the Flair Bartenders Association Dean has judged, Emceed and assisted in the production of many of the worlds top bartending competitions.
Dean has been training bartenders since 1994, when he became the corporate bar trainer for one of Canada's leading restaurant chains. He has since worked with many corporate chains, independent operations, taught night school bartending classes, been a trainer for spirit companies, casinos, and has had many appearances on US based and international television programs.

Television appearances

CMT
2007- CMT.com – Bartending expert
2007- Bartending Expert - Search for the Ultimate Coyote – Season two
2006- Flair Expert – Search for the Ultimate Coyote – Season one
2003 - US National Budwieser commercial

Food Network -
2006- Host - Food Network Challenge – Thanksgiving Fest
2006- Host – Food Network Challenge - Bartenders Battle
2006- Host – Food Network Challenge – US - Promotional tour
Competition Highlights:
2006 – 3rd Place – Marie Brizard - New York Cocktail challenge
2005 - 2nd Place Mixology - Blue Blazer - 4th place overall
2004 - 10th Place King of the Ring, Las Vegas, Nevada
2003 - 3rd Place Tandem Division Legends of Bartending, Las Vegas, Nevada
2002 - 1st Place Campus Classic Flair Competition
2001 - 9th Place Quest for the Best Bartender Competition, Orlando, Florida (Top Canadian)
2000 - 14th Place Quest for the Best Bartender Competition, Orlando, Florida
1999 - 11th Place Quest for the Best Bartender Competition, Orlando, Florida
1998 - 56th Place Quest for the Best Bartender Competition, Orlando, Florida
1997 - 58th Place Quest for the Best Bartender Competition, Orlando, Florida
1995 - 1st Place Tailgate Charlie's Annual Bartending Competition, Toronto, Ontario, Canada
Awards: Link coming soon
Teaching Credits:
2006 - 2009 – Barmetrix North America
2005 - 2009 Niagara Casino's
2005 - Coyote Ugly Saloon, Denver and New York
2002 - 2006 - Flairco Bartending Institute
2003 - 2006 - BOLS Total Cocktails, Eastern Canada 2001 - 2002 - Brock University, Isaac's Pub
1997 - 1999 - Sheridan College, Continuing Education Department
1994 - 1996 - Corporate Trainer, Jack Astor's Bar and Grill