Every month, Flairco recognizes an outstanding bartender in the world of flair bartending. Our Featured Bartender for February is Dario Doimo. Originally from Italy, Dario is now part of the all star line up at Kahunaville, Las Vegas. Winner of the Best in the West Bartender Showdown in late January, Dario has also been a finalist at the Legends of Bartending, the Nations Flair Challenge and Quest. Known for his creative style and long, flexible body, Dario is one of the true innovators in pushing the boundaries of flair bartending as we know it.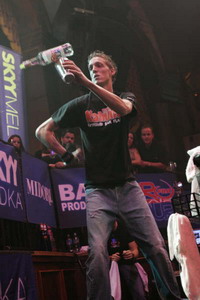 How did you get started in flair?
I started in flair around the end of 2002. My brother Giovanni came home after a bartending course and showed me a simple behind the back with a tin... I was shocked!!


What was your best competition experience?
My best experience in a competition no doubt was Legend 7. It was my first time ever in Vegas and I just came for the famous Legends experience. I never thought that I could make it to the finals and finish second.


What was the most fun you've ever had in a bar?
At a bar called MOJITO. This is the first bar I went to when I left home for flair. Awesome stuff, every night was a big party. And of course at Kahunaville here in Las Vegas, where every night is a party.


What was the best cocktail you've ever had and where did you get it?
Long Island Iced Tea. I really like this drink and the best I've ever had was in Turin, Italy.


What is your favourite TV character?
I don't really have one, but if I have to pick, I would say Spiderman :)


What city would you like to visit but haven't yet?
Any city where there is a good party. But I would really like do a vacation in Bora Bora.


What is the best costume you've ever worn?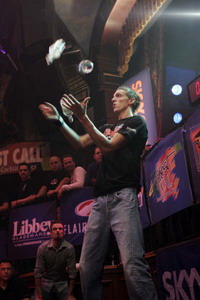 In 2006, I ordered a costume for Venom (black Spiderman), two months before the Quest competition. I wanted to use this costume in the specialty round. But, the costume arrived one day before the finals… IN ITALY!! Due to my long arms and legs I have to custom order all my clothes. Watch the specialty round from the Quest 2006 DVD to see my quick Walmart special of small clothes.


What was the last song you downloaded?
I'm not sure, but I think it was something from Erick Morillo.


What is your favourite TV commercial?
I hate TV commercials, but this one deserves to be watched.


What is your favourite breakfast food?
Like a real Italian, I enjoy cappuccino and brioches.