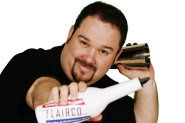 Where in the world is MIKE MCLEAN?


Mike McLean is one of the world's most experienced "FBA Certified" flair bartending competition judges. He travels to events all over the world promoting Flairco, the FBA, and the sport of flair bartending. If you see Mike on the road, be sure to say hello and share a drink with him!
Kalahari Flair Comp
08-Apr-2008

So we made it from the PRA Show in Pittsburgh up to the Kalahari Resort in Sandusky for a competition being run by Colin Griffiths. The resort has a HUGE indoor waterpark, which the Kahunaville here looks over.

Unfortunately we missed the qualifying round yesterday because of the show in Pittsburgh, but I think there was over thirty bartenders here. After hearing some of the stories of gross debauchery from after the competition, I'm okay with missing it.

This is the first of what will hopefully be many competitions here. Colin has had tremendous support from the resort management and their sponsors were all very keen. The restaurant was packed for the finals, with a nice mix of locals, resort guests and brand reps all in attendance. I was even able to hook up my webcam and let Rebecca watch from home.

In the end, it was Rodrigo Cao from the Kahunaville in Las Vegas who beat out Paul Trzcianko from TGI Fridays in Minneapolis by less than three points for the win. Tim Plummer from Harrah's in Las Vegas was third, with Rodrigo Blascovich from the Rockin Taco in Los Angeles fourth and the birthday boy Sean Story from Kahunaville Las Vegas in fifth place.

After dragging my butt out of bed tomorrow morning to check out, Dean and I are going to try and get caught up on some work before driving to Cleveland for a fundraising event called Dakota's Challenge II. Dakota is the son of flair bartender Rob Turek. He suffers from Landau Kleffner Syndrome (LKS) and requires brain surgery to try and reverse the conditions of this horrible disease. We were on location for the first event in 2006 and naturally wanted to help out again this time, so it's off to Cleveland we go!

Two down, one to go.
PRA Show Pittsburgh
06-Apr-2008

The start of a long week for both Dean and myself started at 3am this morning when I got up, packed the truck and left for Pittsburgh for the Pennsylvania Restaurant and Foodservice Expo. This is our second year at the show, where we combine some flair demonstrations, interactive seminars and a timed accuracy competition called the FAST Tender Challenge.

The show itself went really well today, we almost filled the seating area for each stage presentation. We brought in some locals flair bartenders, Mark Hensler and Mike Mills, to help with the demonstrations. This was my first time meeting Mark in person and as it turned out, it was also the first time Mark had ever performed a flair routine on stage in front of an audience. Like I said, the show went well, but for the first time ever, we went an entire day without selling a single thing.

Once the show closed, we walked over the sky bridge from the convention center to the Westin Hotel. After a quick bite to eat, I'm going to pass out and get some much deserved sleep. After the show ends tomorrow, we need to pack up as fast as possible and head up to Sandusky for a competition being run by Colin Griffiths.

No rest for the bottle flippers this week!
LX & NCB Show
29-Feb-2008

Well, I've survived yet another year of the week from hell. Everyone is always jealous that I get to travel to all these exotic locations for competitions and events. The reality is that this week is consistently my busiest of the year. Between the competition, trade show and meetings, I put in almost one hundred hours. The biggest thing I miss right now is sleep.

The trade show on Tuesday went really well. We had a booth right beside the mixology stage, but the sightline was partially blocked by a huge projector screen. Even with that, we still managed to launch and sell out our new Floating Cocktail Shaker. With Levi flipping bottles in the booth, we did okay selling our core products as well.

The Legends finals on Tuesday night was a huge show. Between the individual competitors, there were a few tandems teams also competing. Dean and his partner Jay had some fun on stage, dropped a few bottles, but still got fourth place overall. Dario Doimo made it two wins in a row, taking the Legends X title. Right behind him was Rodrigo Delpech and Danilo Oribe. Rounding out the finalists was Vache Manoukian, Paul Trzcianko, Rodrigo Cao, Benham Gerami, Sean Story and Jamie Barry. There was a bit of drama after the fact, but that just seems common place these days. I'm hoping that an open judging seminar will help explain how everything works next time.

Rebecca tried to fly home on Wednesday, but her flight was delayed leaving Vegas and ended up stuck overnight in Indianapolis. That was enough of a reason for her to stick around with me for any future events. Thankfully, she made it home without incident on Thursday, but did get in trouble for being late for a meeting.

On Thursday, I met with representatives from DeKuyper to discuss their support for some local events on our newly announced Advanced Tour. They were blown away with what we had already put together and have committed to a couple of events. I'm really looking forward to working with them and hopefully building it beyond their regional offices to the national level.

After that was the first of hopefully many Vegas Round Table meetings. This meeting included various bartenders from the different flair properties here in Vegas and is meant to open up the lines of communication between the bartenders and the FBA. Provided we can get consistent representation, I see these meetings as being a great way to keep everyone up to date on what the FBA is doing, as well as solving any problems or issues that the bartenders might have. Fingers crossed on this one.

I spent this morning at UPS shipping back all of our product from the trade show and the bars used at Legends. Someone who shall remain nameless packed everything up at the trade show without considering what needed to be shipped and what should have been packed. So I ended up going through all of the boxes to pull out the random things that got packed simply because they were sitting in our booth at the end of the day. I had no idea that Playboy now makes an energy drink, but the crew working the front desk of the UPS Depot seemed to like them.

With some time to kill, I decided to drive out to the racetrack to see what was going on. I've never been to Las Vegas Motor Speedway, despite the fact that I'm a huge NASCAR fan and the race is always right around the same time as Legends. So after a long walk in from the parking lots, I bought my $25.00 ticket and got to watch some practice and then qualifying for the race on Sunday. Let's just say that it made my day. No work, no meetings, just some sun and racing. Nice.

Now I'm back in McCarran airport waiting for the flight home. I've been bumped up to the front of the plane so the overnight flight shouldn't be too bad. A few hours of sleep and then picked up in Toronto by Rebecca. And of course, more sleep.
LX (Legends 10)
25-Feb-2008

It seems like only a month ago that I was here in Vegas for a competition. Wait, it was a month ago that I flew in for one day and the Best in the West finals. Right.

This time it's the tenth anniversary of the Legends of Bartending, plus the Nightclub and Bar trade show. I landed late Friday night, got my rental minivan and made it to the hotel without incident. It pains me to drive a minivan, but there really isn't a better cost effective way to move people and product around all week. The full size SUVs are at least twice the price. If I didn't know better, I would say that it's a conspiracy to make me drive a minivan.

Saturday was spent with the judges meeting. We had a few new people there and it went really well. Hopefully when we do the next meeting before the Triple Challenge in June we will be able to open it up to anyone interested, or maybe even run a full educational seminar. It always surprises me how much better the competitors and judges understand the rules and definitions after one of these meetings.

Saturday night I went out with some of the guys, Jim Allison, Luis "Iceman" Herrera, Cache Bouren and crew, to Kahunaville for dinner, Carnaval Court for some drinks, Pure Nightclub for another drink and then Shadow Bar for one last drink before heading back to the hotel.

I spent Sunday shuttling people and boxes around from the airport and the convention center. Dealing with the multiple unions and trade show requirements seems to change ever year. I felt pretty foolish going to the marshalling yard and weighing my minivan on a scale, right beside a tractor trailer full of freight. At least everything got there on time and in one piece.

At the meet and greet Sunday night for Legends, we gave out the annual FBA awards and the Pro Tour trophies. Jim announced that I had been promoted to Vice President of the FBA, and then I spoke about our new Advanced Tour. I think the Advanced Tour concept has incredible potential and will hopefully grow to at least ten events this year, anchored by the Advanced Division at Legends, Nations and Quest.

Today was spent going through the qualifying rounds. It was a brutal long day, but I saw some great flair and there weren't any huge problems, so it was still a success. Now I'm off to the airport again to pick up Rebecca. She'll be in town only long enough for the finals on Tuesday night, then flying home on Wednesday.

Still a lot to happen this week!
Havana Club Results
21-Feb-2008

Wow, what a trip. I can't even express how cool this trip has been and the incredible hospitality shown to us from Havana Club. Huge thanks to Nicolas and Francois from Havana Club for everything they've done to make this event such a huge success.

There are about 350 people here from all corners of the globe. We are staying at the Hotel Nacional, right in downtown Havana, right on the ocean. And of course there is plenty of rum to keep everyone entertained.

I watched the classic mixology competition on Tuesday, with Graham Warner from Canada making drinks instead of flipping bottles. Very interesting to see some of the techniques and styles used to make some great looking cocktails.

On Tuesday night, there was a gala dinner at a private club that was out of this world. There was about 100 performers doing their thing as dancers, jugglers, in the pool and on horses, as the group arrived on location. This was another multi course dinner, with more shows, music and dancing.

On Wednesday, we set up on the same stage as the classic competition, but using our Flairco Portable Bars. The only problem was that the one bar they already had there was missing the bolts needed to hold the main bar surface, so we couldn't roll the bar back and forth, meaning that we could only use a single bar rotation. That meant that instead of checking the bottles and bar set up off to the side of the stage, I actually had to get up on stage for every competitors and make sure everything was good to go.

After waiting for the buses to come back from the Sugar Cane Plantation tour, we got everything rolling and powered through all 18 competitors in good time. There were some great shows and some impressive moves. This is one of the reasons I love judging international competitions is seeing so many different styles and moves that I don't normally get to see. As an added bonus, I got some advice from an IBA judge on how to better run flair competitions. Right.

So on Wednesday night, I got up on stage with the President of Havana Club in front of the whole group of bartenders, representatives and accounts to hand out the awards, gold, silver and bronze custom Flairco bottles.

The winner was Anthony Pullen, representing the Netherlands. Anthony put on a great show with lots of originality and showmanship. In second place was Giovanni Doimo, representing Germany. Giovanni also had a great round, but his deductions made the difference in the end. In third place was Tomas Pruckner, representing the Czech Republic. Tomas is a young up and coming flair bartender that I hope will become a regular on the international stage. In fourth place was Stefan Haneder, representing Austria. Stefan had a really cool garnish and simply the best straw trick I've ever seen. In fifth place was Dusan Janjtovic from Croatia. Again, another good up and coming flair bartender.

Overall, I think this event was a tremendous success. I'm hoping to build up the communication and possibly a business relationship with all of the bartenders that I met this week, not to mention help Havana Club with their individual country events.

Now I just need to wait a couple more years to come back to Cuba!
Havana Club Cuba
18-Feb-2008

Well, I'm back in Havana for the Havana Club Grand Prix. This is my second time here and I'm really looking forward to this event. There are 17 competitors from around the world competing here. It should be a great show!

Funny note. Upon arrival today with Chuck McIntosh of Bottleslinger fame, we found out that Castro quit. Coincidence or a premonition of things to come?
BITW Finals
29-Jan-2008

So I've made the trek back to Vegas for the Best in the West Bartender Showdown finals. This competition has three weekly qualifiers for locals, one last chance qualifier for traveling bartenders, and then the finals.

So I got up at 7am this morning, left for the office, picked up everything, got stuck in traffic and almost missed my flight. Eventually got to Vegas, waited in the airport till Jim landed a few hours later and got a ride from Isabel to the Roadrunner Saloon. The show itself was amazing. Finally got to pack everything up, checked into the MGM just after 4am and now I'm hoping to get a few hours of sleep before flying home at 10am.

For 2008, the rules were updated a bit to remove the direct deductions for drops and spills. Instead, only drops that affected the smoothness or flow of the routine were considered when the judges scored. This let the competitors open up and show off some of their best moves.

The results were crazy close, with less than five points separating the top four. The winner, was Dario Doimo, originally from Italy but now working at Kahunaville, Las Vegas. In second was Rodrigo Delpech, less than a point ahead of third place Vladymyr Buryanov. In fourth was Danilo Oribe, with Rodrigo Cao in fifth place.
MYbar Showcase
19-Jan-2008

My good friend Levi Donaldson moved back home to Indiana in November and bought a local bar. As the host for the Legends Boot Camp, Levi put together a small competition at the same time. So Rebecca, Ryan and myself headed down to New Albany, IN for the first annual MYbar Showcase.

Our timing as a bit off as we got there late and started the competition less than five minutes after walking in the door. The funny part was that I didn't actually get to tour the bar till after we finished around midnight. With Levi as the host, a lot of bartenders showed up just to support him and put on a show. Not to mention listening to Levi as the sarcastic MC is a lot of fun.

Eventually, Colin Griffiths was crowned the winner, with Paul Trzcianko in second, Shawn Oana in third, Josh Goldurs in fourth and Dan Seitz in fifth place. Great shows from a lot of great guys.

After a quick breakfast the next morning with Levi, we hit the road again for the nine hour drive home. It looks like we'll be back again at some point this summer!
Year in Review
04-Jan-2008

So I knew that 2007 had been a busy year, but just exactly how many events was I involved with?

As it turns out, it was just under 70,000 air miles, 18 competitions, 4 trade shows and 1 bar related special event. Not a bad year.

With the Pro Tour expanding to a North American Tour and a World Tour, plus the possibility of a new Advanced Tour, I expect 2008 to be just as busy!
Fun in Vegas
05-Dec-2007

So Rebecca and I took off for a quick weekend away and where do we go? Vegas of course!

Using some of the thousands of airmiles that I accumulated over the course of this year, we flew down on Friday night, then back home on Monday. It almost didn't happen though, as I realized when we got to the airport that I'd forgotten my laptop bag, complete with my passport, back home. The gate agent suggested that we might as well try, which turned out to be the right call. Thankfully, filling out all those customs declaration forms over the years help me memorize my passport number, which combined with my birth certificate and drivers license was enough to get on the plane.

On Saturday night, we met up with Brian Loukmas and Isabel Hall to go check out a cool new mixology bar called Noir, tucked below LAX nightclub in the Luxor hotel and casino. Tending there was Isabel's husdand, the legendary Ken Hall. Watching Ken, a world champion flair bartender, envelope himself in hand crafting gourmet cocktails, was a lot of fun (not to mention very tasty!). Ken kept coming up with cocktail after cocktail. Great night.

Sunday was spent touring around the various casinos, walking the strip, riding the roller coaster at New York New York, watching the fountains at Bellagio, touring the canals at the Venetian and of course hitting some of the bars. We were going to check out the weekly competition at Kahunaville, but ended up going staying in after hitting the buffet in the Rio.

Monday included a quick tour of the Ferrari dealership in the Wynn, then over to the mall, before collecting everything and heading to the airport.

It was nice to be in Vegas without a competition or work schedule. Special thanks to Robyn Closson for loaning me a charger for my Blackberry (since it was packed in my laptop bag too!)