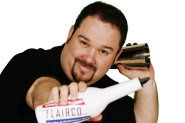 Where in the world is MIKE MCLEAN?


Mike McLean is one of the world's most experienced "FBA Certified" flair bartending competition judges. He travels to events all over the world promoting Flairco, the FBA, and the sport of flair bartending. If you see Mike on the road, be sure to say hello and share a drink with him!
Roadhouse Finals
27-Nov-2006

I am still tired and a bit overwhelmed from yesterday's competition. With a total of thirty competitors, including almost all of the top bartenders in the world today, I think I am going to need to watch the DVD to remember all of the highlights from this event.

After landing back in London on Friday, we went out and somehow managed to end up in the VIP section at Cafe de Paris, just like every other time I've been to London! This club is incredible, as can be seen at www.cafedeparis.com.

Needless to say, I was moving a bit slow on Saturday when we met back at Cafe for the competition meeting. Despite having all of the big names in the same room, the atmosphere was pretty laid back with minimal questions or problems before the big show. Saturday night was an early one after a judge's meeting in Maxwell's on the edge of Covent Garden.

The doors to Roadhouse opened at noon on Sunday. With no pre-sales of tickets, there was a huge line up of people waiting to get in when I got there. The bar itself was almost full by 1pm, but it wasn't the usual crush towards the stage because of the numerous plasmas TVs broadcasting everything live around the bar. This was the start of one of the longest days judging I've ever done.

For the World Finals, there was both a three minute working flair and five minute exhibition flair round for each competitor. Due to the larger than normal number of competitors, we ran hours behind schedule and got only a short break. The six finalists, Vladymyr Buryanov from the Ukraine, Danilo Oribe from Uruguay, Tom Dyer from the UK, Christian Delpech, Adriano Marcellino and Rodrigo Delpech, all from Argentina, were the best in the qualifying rounds, but it was incredibly close.

In the end, Rodrigo had a simply spectacular routine and won the top prize of 10,000.00 Pounds. Coming in second place with the lowest deductions of all the finalists was Adriano, with Christian, Tom, Danilo and Vladymyr all right behind. Less than seventeen points separated the finalists, which is the closest I've ever seen. As mentioned, I will need to wait for the DVD to come out to truly appreciate these routines as they were all so damed good!

After sleeping most of today, we met up at the TGIFriday's in Covent Garden, bowled a couple of games at a cool underground bowling alley called All Star Lanes, then off for some karaoke at the infamous Lucky Voice in Soho. The night ended back at Roadhouse, before I crawled back here to my room in the Strand Palace.

Special thanks to the man responsible for organizing everything, the man, the myth and the legend known at Tug. Can't wait till next year!
Dublin Flair Comp
24-Nov-2006

I'm sitting at the bar in my hotel in Dublin just after 4am, drinking a Guiness and checking emails. I wish all my trips were like this, convenient and fun.

I flew overseas a few days early this year for the Roadhouse World Finals in London. After landing at Gatwick, I caught a quick flight here to Dublin to check out the Flair 1 competition. This is the first ever event of its kind put together by Alan Kavanaugh and Colm Mooney. With some good prize money, it attracted top name competitors like Rodrigo Delpech and Tom Dyer. Judges included Ed Fellow from Roadhouse, Patrick from Mixtec and Declan Byrne from the BAI. For the record, Tom edged out Rodrigo for the win. I can see this event growing much bigger for next year!

Along with Bob Jones from Finest Call and Bebi Oprea from Mondy's Bartending Academy in Romania, we braved the elements to walk through downtown Dublin and take a tour of the Jameson's distillery. I even managed to bnng home a limited edition bottle of 12 year old Jameson's that is only available at the distillery and has a customized label with my name on it! We also managed a trip out to Dublin's only true cocktail bar inside Harvey Nichols department store. Now if only they would put cocktail bars in stores here in Canada, life would be great!

Next on tap is a few hours of sleep before flying back to London for the big competition this weekend. This is going to be one for the record books as I can't remember another event having so many top names all competing!
Dakota's Challenge
10-Nov-2006
Need to put text here.
Quest Results
26-Oct-2006
It's just after 6am and I've finally been able to crawl back to my hotel room to get some well deserved sleep. The finals tonight were simply amazing and the after hours activities were equally entertaining.

In the Pro Division, Rodrigo Delpech won all three rounds and the $5000.00 prize with yet another stunning performance. Rodrigo Cao followed up his win back in July at Nations with a solid second place. Team Japan was out in force this year, with Tomohiro Maeda in third and Eiji Narita in fourth. Eiji just narrowly made it into the finals and didn't disappoint with a great show. In fifth was Benham Gerami with his signature silky smooth style and originality. After that was Oscar Perez in sixth, with the comeback story of the year, Tom Alley, right there in second place. Tom cut two tendons in his thumb on stage at the Nations competition and had only gone back to flipping bottles two weeks ago. Rounding out the finalists was Dario Doimo in eighth and Takeyori Maeda in ninth place.

In the Advanced Division, it was Ed Blake who took the top spot. Afterwards, he thanked me for setting up a deal for the purchase of a Flairco portable bar back in early September, which helped him practice for both the speed and flair rounds here at Quest. In second place was the incredibly personable Shaun Plummer. This man is an entertainer, pure and simple. The next level of Team Japan finished in third and fifth, specifically Yukitoshi Ikehara and Kazuyuki Tanaka, with Wilson Urteaga retiring from the Advanced Division with a fourth place finish.

In the Amateur Division, Gordon Chu was the winner, with Dan Seitz in second and Ben Galaviz in third place. These bartenders really impressed me with their routines and I look forward to seeing them jump up to the next level for next year.

I really can't say enough good things about the scoring system we had in place for this competition. Because the skill level was pretty much through the roof, I don't think we could have gotten through this event in a timely manner without this system. And more importantly, we learned how to tweak it just a bit more to make it even more effective for 2007.

Now it's time for a few hours of sleep before spending the day cleaning up and shipping everything home. Then a short drive down to Tampa, with a possible stop at the Barproducts.com offices before heading to the LA Hangout for the debauchery known as the Showcase competition. This is a fun, informal event that lets everyone still in Florida from Quest to just kick back and have some fun. Then all that is left is a flight home Friday night and hopefully a chance to catch up on my sleep!!
Quest Day 2
24-Oct-2006
This is almost too good to be true. We have just finished the first bracket of the Amateur Division and are a full 45 minutes ahead of schedule. With a wireless connection available right at the judges table, I'm able to post this live right from the middle of the event!!
Quest Qualifying
23-Oct-2006
The first day of qualifying at the 2006 Quest competition is on the records. This is the biggest competition to date, with 107 competitors registered in three divisions. The Advanced and Pro divisions took to the stage today and everything ran remarkably smooth. We are using a new judging system that splits the categories between the judges, plus all of the scores are recorded electronically on laptops before being transfered into a master scoring program. This system is incredibly accurate, easy to use and extremely fast. Considering the level that the top competitors are at right now, I don't even want to think of what it would be like trying to judge this event without this system in place.

The typical sort of debauchery has already been seen and experienced, no doubt with more to come tomorrow night, Wednesday night and also Thursday night in Tampa for the Showcase competition. More to come.
NC&B show in AC
12-Oct-2006
Wow, what a week. If anything could have possibly gone wrong, it did. For the sake of my sanity, I hope I don't have another week like that.

After not participating in the first year of the show, the nice folks at Nightclub & Bar made us an offer for booth space at their trade show inside the Trump Taj Mahal in Atlantic City, New Jersey in exchange for some flair shows on the stage in the second floor ballroom. All in all, a great proposition for us to help promote all that Flairco has to offer in one of the fastest growing bar markets in the US.

It started to go wrong with our initial shipment of product and equipment. Despite having all of our documentation in place, for some reason our shipment, including everything we needed for the booth and the shows, got stuck in US customs. By late Friday, it looked like everything was taken care of, but of course it wasn't. Add in the fact that our Certificate of Insurance for the trade show booth was returned as incomplete at 5:30pm, things weren't quite going as planned.

Early Monday morning, and I mean really, really early Monday morning, I picked up Dean and we drove over to Buffalo, New York to catch a flight down to Philadelphia, Pennsylvania. With no guarantees on when our shipment would arrive, I made a panicked call to Eric at Barproducts.com for a replacement shipment (it was Thanksgiving Monday here in Canada, with nothing open). On the drive from Philly over to AC, I was able to work everything out so that we at least had something to sell when the show opened on Tuesday.

On Tuesday morning, it seemed like everything was finally all coming together as I got the updated Certificate of Insurance and a confirmation that the replacement shipment from BPC was out for delivery. Of course when I called down to guest services in the hotel to figure out how I was going to get the five boxes from the loading dock up to the ballroom, I knew I was toast. One of the boxes was a portable bar unit, which caused a problem with the hotel union as it was too big for them to handle. So the hotel union called the trade show union and they took the boxes over to the main part of the show in the arena. Of course they didn't tell me what had happened until after I spent over an hour tracking them down and the show had already opened. Then, to make my day absolutely perfect, the trade show union wouldn't release the boxes without paying a $175.00 handling fee. Thankfully, the show itself went pretty well once we finally got product to the booth and Dean started his stage shows.

By Wednesday morning, I had decided to beat the system and offered some monetary motivation (aka a tip) to the dock foreman to call my room when UPS showed up. Then, I got our rental car out of valet parking, drove it around to the back side of the building, loaded it up with everything, then drove back around to valet parking and had a bellhop bring everything up to our booth. Unfortunately, the show was a lot slower on Wednesday and I was left with a lot of product left over.

Despite testing almost all aspects of my problem solving skills, the show itself was decent. Highlights included staffing the Allied Beverage Group lounge with flair bartenders Tim Borensen and Nick Nesbitt, hanging out in Allied's VIP booth at the show party inside Casbah nightclub, watching two of the oldest, yet most pasionate unionized flair bartenders I've ever met work at the Spirits Bar inside Showboat, hanging out with good friend and flair legend Todd Connell, and of course surving the whole thing and making it home in one piece despite the freak snow storm in Buffalo when we landed.
Summer Flair Comp
27-Sep-2006
For the first time in three years, I flew in and out of West Palm Beach, Florida without a sign or trace of a hurricane. The event was the Summer Flair Bartending Competition 2. This event is organized by Rob Husted, editor of the online flair magazine Flairbar.com. Rob has a lot of unique ideas about flair and he incorporates them into his shows.

When I first read through the rules, I was both impressed and concerned with the Flair Trick Round. Basically, the yard day game of "horse" was put behind the competition bar. None other than Dean Serneels and Mark Schultz were brought in as referees for this round. We worked through some of the problems and issues that might come up in a trial run earlier in the day. In the round itself, some very interesting strategy came into play, cumulating with a bit of an upset when Dave Monterde beat out Rodrigo Cao to make it into the finals against Rodrigo Delpech. Delpech would eventually win this round, but Monterde kept it close right up till the end. Monday night was spent at Duffy's for a large group meal. The night ended with the judges team winning the beer drinking boat race and lots of video interviews with Tony Mirando and his crew.

The Flair Round was outstanding with lots of good shows from the competing bartenders. To no ones surprise, the winner was named Rodrigo. Of course, since there was two of them, it would probably be better to explain that Rodrigo Delpech finished first, with Rodrigo Cao a close second. Ati had her second third place finish in as many weeks, with Dave Monterde in fourth and Cesar Monterde in fifth place. Dave also managed to win the Navan Mixology competition with a really tasty cocktail.
American Cowgirls
19-Sep-2006
Well, this weekend its Portland, Oregon for a competition at American Cowgirls in Portland, Oregon. This bar is home for Terri Leeseberg, one of the top female competitions of the FBA Pro Tour and also the new FBA rep for the NW USA. Terri has spent a lot of time behind the competition bar, but this was her first attempt at running a big show.

My sister drove down from Vancouver, British Columbia, picked me up at the airport and hung out for the weekend. I strolled down to American Cowgirls late Saturday night to check things out and I was very impressed. Owners Matt and Christine Oakland did an incredible job in renovating and equipping the bar itself. To see a bar properly put together says a lot for the mindset of the owners when it comes to how they run their business. Needless to say, I parked myself at the front corner of the bar where Terri was working and watched her work magic on the crowd of locals. Highlights had to include the ladies dancing on the bar (they even have steps built to get up), the mother of all burn out by a guy on a chopper outside the front door, and of course Terri getting more marriage proposals that she could keep track of.

The next day, my sister and I walked around down the Pearl District for lunch and some shopping. It was one of the coolest refurbished industrial areas I've ever seen in a big city. Too bad it rains like three hundred days per year.

On Sunday night we ran the Amateur division competition, with a total of nine competitors. Unfortunately, the lighting wasn't quite as bright as it needed to be and all of the routines were a bit off. Emerging from the pile of dropped bottles as the winner was Billy Zuriak, with Jimmy Valenzuela only a few points behind in second. Not bad for Jimmy's first ever competition. In third was Eric Parker, who completed the night signing autographs with my sharpie. Finishing in fourth was the crazy amigo himself, Jose Amador, with local veteran Stacy Ruff in fifth place. Post competition activities were well documented, including an extensive search outside for the right type of street sign to swing around, drunken line dancing and a game of chicken on the bar top with tricycles. Let's just say that the pictures don't do this night justice.

Monday night was the Pro division competition, with a bunch of big names all looking for the top prize. The bar was packed and any problems from the night before were corrected for a near perfect show. It came down to a matter of only a few points, with Rodrigo Cao edging out Justin Keane for the win. Both are among the top flair bartenders in the world today and they each had incredible shows! In third place was Ati, with a very effective police theme, complete with donuts. In fourth was one of the original flair bartenders from the NW, Legends finalist and Vegas personality Tony Cogburn. Rounding out the top five was Micah Dew, with the most disturbing use of doll heads I've ever seen. The night ended with more debauchery, complete with round two of the chicken races on the bar top with the tricycles.

While this was the first major competition in Portland, I have no doubt that Matt, Christine and Terri will have another some time soon. Special thanks to the sponsors, Skyy Vodka, Rockstar Energy Drink and Coors Light. Competition judges included myself, Jim Allison, Grant Riel and Marc Mital. Also, thanks to our impromptu MC from Spokane, as well as Scott and Greg for jumping in as accuracy judges.

Showcase Kansas City
08-Sep-2006
I just flew home today (my birthday!) from the Harrah's Showcase competition in Kansas City, MO. The comp was organized by none other than my good friend Levi Donaldson. Levi has organized other Showcase events in the past while living in Tampa, FL and I have been there to judge each of his finals.

This was my first trip to Kansas City and it was really nice to see that there is a flair scene building in the Midwest. Levi ran four weeks of qualifying events that attracted bartenders from all of the surrounding states. The final out of town qualifier was on Tuesday night inside Toby Keith's I Love This Bar and Grill, with the top six moving on to the finals. It was nice to be able to hang out with Daniel Joseph of Flairmoves.com (and Assistant Manger of Toby Keith's) again as I hadn't seen him in almost a year.

The humour for the week was supplied at Levi's expense. He is one of the top competitive flair bartenders on the planet and is currently in second place on the FBA Pro Tour. Levi was also one of the featured bartender in the Food Network Challenge Bartenders Battle that just aired on US national TV. I lost count on how many times people came up to Levi and recognized him, but didn't know from where. He took being a "celebrity" well and didn't even start charging for his autograph.

The Showcase finals were held inside the VooDoo Lounge, which is really more of a nightclub layout. The dance floor was filled with chairs, sofas and tables to watch the competition. The bar itself was quite full and the crowd was very appreciative. When the prizes were handed out, the big winner was Paul Trzcianko from Minneapolis, MN. Danny Rossi from Chicago, IL was a close second, with Colin Griffiths from Topeka, KS in third, Wilson Urteaga from Chicago, IL in fourth and Martin Janica from Wisconsin Dells, WI in fifth place. Special mention goes out to Janet Griffiths, Colin's wife, who finished in sixth place in only her second ever competition. Afterwards, everyone moved the party over to Helen's, the unofficial staff bar for the Harrah's casino.

Now I'm actually home for a full week before heading out to Portland, OR for Terri Leeseberg's American Cowgirls competition, closely followed by a trip to West Palm Beach, FL for Rob Husted's Summer Flair Bartending Competition 2!