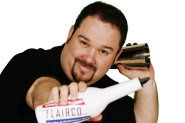 Where in the world is MIKE MCLEAN?


Mike McLean is one of the world's most experienced "FBA Certified" flair bartending competition judges. He travels to events all over the world promoting Flairco, the FBA, and the sport of flair bartending. If you see Mike on the road, be sure to say hello and share a drink with him!
Made It!
29-Aug-2007
I think it's probably a bad thing that I've gotten used to traveling for 24+ hours straight. Made it to Monaco intact, with the only problem coming from a stubborn room key once we finally got to the hotel. After a short nap, Jim, Katie and myself went for a late dinner, followed by a walk down part of the mountain. I'm going to take some more pictures tomorrow in the day time and post them as I don't think the ones from tonight really show how incredible the sights here are!
Flying Again
28-Aug-2007
Well, I'm sitting in O'Hare airport hoping to not run into problems on this next trip. Fingers crossed this doesn't turn out like my last trip to Romania. If you missed that post, scroll down and take a few minutes to read it through.

This time I am off to Monaco for the Skyy Global Flair Challenge. I'm waiting for Jim and his pregnant wife Katie to land, then we are off to Frankfurt, then connecting to Nice, with only a short drive over to Monaco left for another two full days of travel trip. Fun wow.

Despite not having an itinerary yet and only got all of my hotel information today, I am still looking forward to this event. Again, fingers crossed it actually works out as planned.

I'll update again when I make it to Monaco.
MBA Finals
08-Aug-2007
I've said it before and I will say it again. Wow, what a night.

The finals of the MBA Flair competition were held tonight in Mondy's Club in Jupiter, Romania. This was a back up location after the storms yesterday made the beach club Carnaval unusable. Talk about a party.

I was incredibly impressed with the local talent from Romania and Bulgaria. These are the up and coming bartenders in the world of flair. Look for them on the international stage soon!

Before I go through the results, I need to congratulate Bebi Oprea, the competition organizer, and his incredible staff. Despite ridiculous odds, crazy weather and all things unknown, they put together a world class competition that will help push the level of flair here in Eastern Europe.

The finals came down to a battle between three bartenders. In the end, it was Danilo Oribe who was the winner, just ahead of Christian Delpech and Tom Dyer. The top five was rounded out with Diego Soros from Hungary and Jay du Toit from the UK. Awesome show and awesome crowd!

The party afterwards was even better with a packed club, a DJ from Russia that went topless and tons of party people in the house. A very good time had by all.

I got my luggage just before the show tonight, so I was good to go. I leave tomorrow morning, with another day and a half trip home. Can't wait to pass out in my own bed with Rebecca and the bear!

MBA Flair Romania
08-Aug-2007
Judging international competitions, the adventure continues!

Well, another week, another competition. This time I am in Romania, on the coast of the Black Sea, for the MBA Flair competition. This is the fifth year for the competition, but the first on the FBA Pro Tour. The fact that this event is on the Pro Tour is proof of both the excellent organization here, plus the draw of the Pro Tour for events around the world.

The trip here was eventful to say the least. It all started when I missed my first flight on Saturday. Rebecca and I drove from home to Buffalo, but there was over a two hour delay crossing the border. I have never seen it that backed up. Once we finally got to the airport, I was able to rebook my flight for Sunday and let the crew over here know that I would be a day late.

On Sunday, I was only able to get a triple connection to get overseas as almost every flight out of Buffalo was full. So I flew from Buffalo, NY to Hartford, CT (with a ten min stop in Rochester, NY), then from Hartford, CT to Philadelphia, PA. This is where the real problems began.

Once I had boarded the flight from Philly to London Gatwick, they announced that there would be a delay because their backup navigation computer was not working. It took three different replacement computers, but they finally got it working. However, in the two hours that took, a huge thunderstorm rolled in and closed down the airport. So once we pulled back from the gate, there was over thirty planes in line before us waiting to take off.

The flight over the Atlantic was uneventful, but I didn't really sleep because I was worried about making my connection. Originally, I had six hours between my arrival into London Gatwick and my next flight out of London Heathrow. When I landed, I had less than two hours to make the trip. I got there, but only thirty minutes before the flight and check in was only closed. Apparently KLM has a no refund policy for flights booked online, so I paid 132.00 Pounds ($275.00) to get a later flight. Thankfully, this new flight still got me into Amsterdam with enough time to make the last flight from Amsterdam to Bucharest in Romania.

When I landed in Amsterdam, I was all smiles. I had almost an hour between flights and everything was looking good. That is, until I got to Bucharest and found out that my luggage (along with over twenty other people), didn't make the trip with us. Apparently, there was overflow luggage from the previous flight and it bumped ours from the plane. I landed at 12:30am on Tuesday, but didn't leave the airport till 4am after waiting for my luggage to show, then waiting in line to file a claim.

The ride to the coast was an interesting one as we drove into a huge storm (sensing a theme here?). There was bolt, sheet, cloud to cloud and ball lightning on three sides of us. With some mechanical issues from the car, we didn't get to the hotel in Neptune till 8am. The storm was following us and it hit just as I passed out to sleep for the first time in two days.

I woke up at 5pm and got ready to go to the qualifying round of the competition. I was smart enough to pack a change of clothes and some toiletries in my backpack, so I was still doing okay. When I got picked up, I found out that we might be using the back up location for the competition as the first choice, called Carnivale, was outside. The second choice, a club called Mondy's, was also in doubt as it had been flooded in the storm that morning. When we got there, they were cleaning and drying it out, so everything looked to be okay.

As I sat with a few of the competitors on the restaurant patio in front of the club, another huge storm hit. The locals have told me that they don't get storms like this in the summer, but here was two in one day! The rain was so hard that it flooded the patio, and then flooded the restaurant itself!! The club was sandbagged and had staff working to keep the water out, but the path to the club was submerged.

I have to give huge credit to the competition organizer, Bebi Oprea, as he kept his cool with all this chaos and worked around the problems. He decided not to open the club to the public for a regular bar night, so we were able to take the time needed to clean up, set up and then get on with the qualifying round.

I was very impressed with the skill level of the locals. This is definitely a hot bed for flair! The qualifying went smoothly and the top ten moved on to the finals tonight.

So far today is going much better. No rain, and my luggage is supposed to be delivered at some point. The funny part is that I fly back home again tomorrow.
Nations in Vegas
01-Aug-2007
So I'm back in Vegas again for the fourth time this year. This time its for the Nations Flair Challenge. This event has always produced some crazy routines because it is flair only. With an Amateur, Advanced and Pro divisions, over 80 competitors took the stage in Club Rio.

This is my girlfriend Rebecca's first time in Vegas and first time seeing one of our big, international level shows. She was a bit overwhelmed with it all, but made it through like a veteran, including the late night post comp partying!

The Pro Division was a dogfight with a lot of top names in the show. Unfortunately, Rodrigo Delpech's flight got cancelled on qualifying day and he missed the event. But even without Rodo, there was some sick, sick, sick flair. Vladymyr Buryanov from the Ukraine took home the $10,000.00 first place prize, narrowly edging out Christian Delpech and Danilo Oribe. Marek Posluszny from Poland finished in fourth, with Levi Donaldson in fifth place. Justin Crowe won the Advanced Division, with Brad David winning the Amateur Division. Congrats to all on a great show.

Rebecca and I dragged ourselves to the airport this morning for the flight home, only to find out that our flight was cancelled and the only option available was the overnight red eye flight at midnight. Talk about messing with you day. So we headed out to Ken Hall's house, packed away all of the equipment from the competition, then headed out to dinner with Ken, his wife Isabelle, Jim, Jeremy Dodson from Harrahs and John Niekrash of Skyy Vodka, up in the VooDoo Cafe atop the Rio hotel. Amazing meal and conversation to say the least (try the crab cakes!!).

Now we are back in the airport waiting to board the flight home. I only have two days to get caught back up before flying out again, this time to Romania for the MBA Flair competition.
Bluesfest Results
16-Jul-2007
Wow, now that what was I call a fun competition.

Under a huge tent in the main area of the Windsor Bluesfest, the finals for the Battle at the Blues was held in front of the Industry Day crowd. The competitors had no problem keeping the audience entertained, with young kids even trying to flip their water bottles outside the tent!

It turned out to be very close in the end, with Christian Delpech edging out Levi Donaldson by less than five points for the title. In third place, Colin Griffiths had less than a two point margin over Paul Trzcianko. Robyn Closson finished in fifth place, with Sean Story and Brian Hannis rounding out the rest of the field. The winners were announced on the main stage just before the headlining act of Colin James! Look for this event to grow next year.

While in Windsor, I met with Dan Hogan and the guys from the Beach Nightclub to set dates for next year's Super Flair competition. Mark your calendars as you won't want to be anywhere else than Windsor on May 18th to 20th in 2008! I'm really looking forward to working with Dan on this infamous event.

Up next is Nations in Vegas, followed by either Pinnacle in Vancouver or MBA Flair in Romania!
Battle at the Blues
14-Jul-2007
We just finished the qualifying round at the Battle at the Blues competition here in Windsor, Ontario. This is just a Level 1 event on the FBA Pro Tour, but we have some big names out to play. The top seven advanced to the finals tomorrow, which will be held inside the Windsor Bluesfest. Moving on were Christian Delpech, Levi Donaldson, Colin Griffiths, Paul Trzcianko, Sean Story, Robyn Closson and Brian Hannis. Special thanks to Dan Hogan from the Beach Nightclub, as well as Kevin Lee and John Liedtke from the Windsor Bluesfest for all of their help!
Big Apple Showdown
13-Jun-2007
I'm back in New York for the Big Apple Showdown competition, held as part of the New York Bar Show. Ryan and I drove down late Friday night, arriving at our hotel just before 7am. Even then, the city was crazy busy!

I picked up Jim on Saturday morning and we all headed out to Chris Cardone's Bartenders Academy of NY on Long Island to pick up the equipment and supplies needed for the show. After spending the afternoon setting up, it was back to the hotel room for a quick nap before hitting the town Saturday night.

The show on Sunday went really well, with no problems going through the two different divisions. In addition to myself, Cardone and Ken Hall judged technical flair, while Luis "Iceman" Herrera and Bob Grotticelli took care of judging accuracy.

After a surprisingly tame Sunday night, the finals on Monday were awesome! Danilo Oribe spent the day at the Uruguay Embassy as his laptop, passport and money had been stolen. Despite not having his music, Danilo was outstanding and actually won the competition! Christian Delpech was a close second, with Colin Griffiths, Vladymyr Buryanov and Levi Donaldson rounding out the top five.

When the show closed, we packed everything up and got out of the Jacob Javits Center with lightning speed (thanks Josh!). We went to Carmine's for dinner and almost ended up crawling out afterwards. Incredible food! The party then moved over to Latitude, followed by the annual trek to White Castle.

Something was going on in Manhattan on Tuesday when we tried to leave as it took us almost two hours to get off the island. After dropping everything back off on Long Island, we got stuck in rush hour traffic in the Bronx before breaking free. We made a quick stop at Shadows on the Hudson for dinner, then hit the road for the seven hour drive home.

I love going to NYC and hope that I can make it back at some point this year. The one problem with running events is that I rarely have the time to go explore the host cities.
Wild Wild West
25-May-2007
After a very bumpy flight out of Vegas and into Reno, I'm now on location with Jim in Carson City, NV for the first ever Wild Wild West Flair Off. This event is being hosted by the Carson City Nugget Casino, home to a small but growing team of flair bartenders including David Kemper, Jeremy Patchen, Sean Alto and Gabriel Torres. A special word of thanks also to their bar manager, Noel, for giving these bartenders the support and opportunity to flair for a living.

Despite only being a Level 1 event on the Pro Tour, we had some of the biggest names in the game show up to play. With promotion from live radio remotes, television interviews and newspaper coverage, the locals that showed up for the finals were treated to an all star calibre event.

Due to a missing ingredient penalty, Christian Delpech edged out his brother Rodrigo once again to finish in first place. Danilo Oribe took yet another third place after the Delpech's, with Valdymyr Buryanov in fourth place and Tom Alley in fifth place.

Based on the success of this first time event, I'm hoping that we will be back again next year to make it even bigger!
Blue Blazer
21-May-2007
This is my first time staying at the Red Rock Casino in Las Vegas, home to the 2007 Blue Blazer Challenge, and let me say that I am very much impressed. The Red Rock is only a couple of years old and way, way off the strip. Everything is really clean and modern, especially the VIP room they gave me for my stay here. The club that hosted the competition was the perfect size and feel for what Jim and Ken wanted to do.

Christian Delpech was the winner, with a great blend of mixology and flair. Oscar Perez actually won the mixology portion of the competition, but finished in second place overall. In third was Colin Griffiths, with Benham Gerami in fourth and Danilo Oribe in fifth place.

Now I get to pack everything up and go upstate for the Wild Wild West Flair Off in Carson City, NV on Wednesday and Thursday.