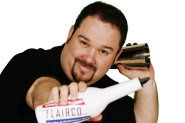 Where in the world is MIKE MCLEAN?


Mike McLean is one of the world's most experienced "FBA Certified" flair bartending competition judges. He travels to events all over the world promoting Flairco, the FBA, and the sport of flair bartending. If you see Mike on the road, be sure to say hello and share a drink with him!
Martini Challenge DC
16-Apr-2007
So I was home for all of three days before flying out again for another event. This time I am in Washington, DC to help out Jonas Mitchell with his first ever competition. I met Jonas last year when he came up to the Flairco Cup, and now with the flair scene growing around DC, I only thought it fair to return the favour with his event.

Helping me on the judging panel was Rob Taylor of Bartrix.com from Chicago, IL and Martin Janica from Bar Maniacs in Hollywood, FL. The show ran reasonably smoothly, with the local bartenders learning what it takes to put together a competitive routine and perform in front of a huge crowd. Congratulations to the winner Nico Antivero!

I'm flying home in the morning, with only a few more days back in the office before taking flight once again. Only this time, I'm actually going on vacation to Mexico! A cousin of mine is getting married, so myself, my girlfriend Rebecca and most of our family are all heading down for a week on the beach!
Long Trek Home
12-Apr-2007
I'm in the middle of the long trek home now. Seyran came to pick Jim and I up at our hotel in Moscow at 7am this morning. We survived the ride to the airport with only a few heart stopping moments and some creative traffic management by our taxi driver. Security is understandably tight in Moscow. Just inside the entrance to the airport was a xray machine and metal detector that everyone going in had to pass through. With plenty of time to kill, Jim and I had some breakfast at the TGI Friday's, before making our way through the lines for ticketing, immigration, customs and then finally one last security check point where they pat you down and inspect everything to make sure nothing illegal is going out of the country.

We flew from Moscow to London, where again we had something to eat in the TGI Friday's, then spent the rest of the time in the United Business Lounge before flying to Chicago. This flight was almost empty so Jim and I spread out, watched some movies, played on my PSP and napped.

Now, I am in Chicago and bored senseless. My flight has been delayed as they are waiting on a pilot. Sort of a necessity I guess. I am struggling to stay awake as it's after 10pm local time, which works out to 7am back in Moscow. If I'm lucky, I will get home around 3am, capping off a very, very long day. Thankfully I have a ride waiting for me in Toronto!!
Flair Castle 3
11-Apr-2007
I've flown from Moscow down to Odessa now for Flair Castle 3. This is my second year here and there is certainly a lot of interest in flair! The qualifying round and final round were combined all together into one long day of crazy flair. I really can't say enough about Vadym, Ruslan and the Katia's incredible hospitality, making sure that everything is taken care of and that the competitors and staff are comfortable.

The show itself was incredible, probably the best all around group of routines that I have ever tried to judge. Every competitor was on, making my job as a judge just that much harder. It the end, it was Christian Delpech, with a dropless routine, who narrowly beat out his brother Rodrigo by only five points. In third place was Danilo Oribe with yet another amazing show. Tom Dyer was fourth, with possibly the most entertaining routine of the night by Andre Fiore taking fifth place.

I really can't say enough about how well this event is run and the staff and competitors are taken care of. Our base of operations is a restaurant called Vis a Vis. Vadym is the manager here and everything is perfect. From the incredible food and drinks to the outstanding service, this place has to be experienced. Let's just say that it is a bit of a shock when I get home and back to eating normal meals, not three course gourmet meals perfectly served up!
Barstars Moscow
06-Apr-2007

Just finished the Barstars competition last night in Moscow. Wow, what an event!!!

There was a full international field for this competition, including the Delpech brothers from Argentina, Tom Dyer from the UK, Danilo Oribe from Uruguay, Sebastien Oguic from France, Marco Canova from Italy, plus the best Eastern European flair bartenders.

The competition was organized by Barstars, Seyran, Dmitry and Sergey, in a partnership with their sponsor the KIN Group. After meeting, speaking and of course drinking Russian vodka with them, it looks like flair in Russia will take off! Many, many thanks for their hospitality and incredible organization of this event.

The competition was held in a huge nightclub that used to be a factory. With 40 competitors going through the qualifying round, and then another 10 moving on to the finals that night, it was a very, very long day. That doesn't even include the press conference (a first for me), numerous newspaper and magazine interviews plus a lot of hand shaking with local VIPs.

In the end, Christian Delpech beat his brother Rodrigo by less than two points. Rafael Arce from France was third, with Danilo Oribe in fourth and Tom Dyer in fifth. The shows were all incredible and the crowd was going wild all night long.

Tonight many of the competitors are working a huge cocktail festival. Jim Allison, FBA president, and myself just get to hang out, watch everyone work and enjoy some tasty cocktails. It almost makes up for the 20 hours of flights that it took to get here.

On Sunday we fly to Odessa in the Ukraine and I will update again from there. Spaciba (thank you in Russian!)
Legends Finals
07-Mar-2007
Wow, am I ever happy that this week is almost over. People always ask to come along when I tell them that I am off to go work an event in Vegas. I can see how they might think this is the sweetest job ever, but the reality is that I work more in this one week than at any other time in the year. Tuesday was particularly killer, starting at 8am with getting ready for the trade show, and going straight through to the Legends after party at 3am. That is a long day by anyone's standards.

The Legends finals was another incredible event. With the same venue, just different name, as the Nations finals, it should look awesome on DVD. Rodrigo Delpech won for the third year in a row with a commanding performance in the Pour Test, Speed Round and Working Flair round. In second place was Tom Alley, in his home building and on the same stage that he hurt himself badly back at the Nations competition. Danilo Oribe was third, surprising a lot of people with the best flair show of the night. Eiji Narita from Japan was a very emotional fourth, while the Manoukian himself, Vache, finished in fifth place.

Now all I have to do is get all of our equipment and product shipped home, find another piece of luggage to bring all of my stuff back with and look forward to a nice relaxing week at the office!
Vegas Baby!
05-Mar-2007
We are just about to start the qualifying round for Legends 9 inside the Rio All Suites Hotel and Casino here in Vegas. It looks to be a great field of competitors and it will be a dog fight to see who makes it through to the finals.

Also on tap this week is our booth at the Nightclub and Bar show Tuesday and Wednesday. Everyone is always jealous when I tell them I get to travel to Vegas for work, but this week is one of the longest I work all year long. Between competition meetings, setting up for the trade show, the all day qualifying round, a full days at the trade show and getting everything cleaned up to be shipped home, I average 14-16 hour days working. Yes, I'm in Vegas, but I'm still working my butt off.

I will update more after qualifying.
Cocktails & Dreams
13-Feb-2007
Dean and I flew down to New York City yesterday for an event called Tales of the Cocktail. It was a meeting of some of the big names in the field of mixology and a prelude to the big week long event down in New Orleans this July. Somehow we managed to miss the information part of the night, so we just hung around drinking cool cocktails for the rest of the night.

The event was hosted inside the Pegu Club, a hardcore mixology bar owned by the Libation Goddess Audrey Saunders and Julie Reimer, owner of the Flatiron Lounge. It was a pretty interesting crowd to say the least. We spent some time talking to the Thirsty Traveller Kevin Brauch, Charlotte Voisey from Hendricks Gin, Junior Merino from the Cocktail Times and Akiko Katayama, a judge from the Iron Chef TV show.

By about 9pm, the party died down and we moved on to a new bar called Death and Co. Nice cocktails and very cool appetizers, but the atmosphere seemed a bit muted. After that we moved on to Sushi Samba to meet some friends. After another couple of cocktails and some sushi, I pulled the plug and had a brisk walk back to our hotel, the Solita Soho Hotel (nice place and good value!).

We left the hotel early this morning to try for an earlier flight home and are now sitting in Laguardia waiting to board our flight. There is a snow storm moving in and it would be nice to beat it there!
Best in the West
31-Jan-2007
The sixth annual Best in the West competition was held at the Roadrunner Saloon on Monday night. This competition is essentially a local level event, but since it is based in Vegas, it attracts some of the biggest names in flair.
Shadows
10-Jan-2007
I got an interesting message late last week from Toby Ellis of Barmagic.com. He has been on location in upstate NY for the past month or so working at a new location called Shadows on the Hudson. They were set to finally open this week and he wanted to know if I would be interested in checking things out. I figured that any concept that was able to keep Toby busy for a full month, with assistance from Cache Bouren from Hawaii, had to be worth seeing in person.

After a late night call on Monday to confirm details, I picked up my girlfriend Rebecca from work Tuesday afternoon and we made the seven hour drive down to Poughkeepsie, NY. If that's not spontaneous, I'm really not sure what is. Thankfully, Shadows was well worth the drive.

I know that Toby has high standards when working with a new property, but the end results at Shadows surpassed even my expectations. Far too often have I seen owners or design teams start out with the best intentions, only to change the plans once they actually have to start spending money. At Shadows, the attention to detail was like nothing I had ever seen before. The organization, planning and execution to get such a facility open was first class and the end result is would be world class in any market, let alone upstate NY.

The spectacular layout was topped only by the staff and the menu. Toby and Cache did an incredible job of taking experienced bartenders, telling them to completely forget everything they already knew about making drinks, then rebuilding their skills and passion for creative mixology. While there is only a limited number of cocktails on the menu, they are all works of art. Forget your standard Screwdrivers or Fuzzy Navels, these drinks are real cocktails!

Joining us in the bar was Gary Regan of Ardent Spirits (and the author of "The Joy of Mixology") and Charlotte Voicey of Hendricks Gin. Charlotte added her touch to the drinks menu with some incredible cocktails! I think we made it through taste testing the whole menu, plus some new creations courtesy of the staff. Not to mention I saw what was quite possibly the best cocktail shaking technique ever, now and forever known as "The Monkey". Priceless.

I'm looking to go back to Shadows in June after the Big Apple Showdown competition in New York City. I only hope that they can maintain these high standards and show the rest of the hospitality industry just how good a concept like this can work. I've posted some pictures in the photo gallery. For more information on this location, visit www.shadowsonthehudson.com.
Mixology Party
10-Dec-2006

I helped host a Mixology Christmas Party last night at the home of family friends Ken and Daph Lumgair. Daph had asked me a while ago if I would be interested in showing how to make some good cocktails, but until now I have been on the road constantly with events and competitions.

I showed up a bit late, but with a Flairco Portable Bar and case full of bar tools. I had given Daph a list of products I would need to make some of the requested cocktails, plus others of my own creation. Once I got everything set up, it was down to business with round after round of cocktails. It is sometimes hard for me to realize the difference in perception between those of us in the business and the general public. Now if we can only get some of the big liquor companies to spend their marketing dollars a little differently....

The night was a huge success and based on many, many requests, listed below are some of the recipes made. I just hope that nobody is blaming me if they felt less than 100% this morning.

Classic Bloody Caesar

Rim a tall glass with celery salt or Matt & Steve's Bloody Caesar Radical Rimmer. fill with ice, add salt and pepper, two dashes of Tabasco, three dashes of Worcestshire Sauce, 1oz of Skyy vodka, fill with Clamato, stir and serve with a celery stalk and Extreme Bean!

Mojito

Add one spoonfull of sugar, two lime wedges and three mint leaves to a glass, muddle everything together, add 2oz of Havana Club rum, fill with ice and top with a bit of soda!

Cosmo

Combine 2oz Skyy Citrus vodka, 0.5oz Cointreau, one squeezed lime wedge and a splash of cranberry juice in a shaker tin with ice, shake thoroughly and strain into a martini glass!

The Daphne Special

Combine 2oz Bailey's Caramel, 0.5oz Malibu rum and 0.5oz BOLS White Creme de Cacao into a shaker tin with ice, shake thoroughly and strain into an ice filled glass with the Matt & Steve's Chocolate Mocha Chunk Radical Rimmer!

Gary's Fruity Drink

Combine 1oz Havana Club rum, 0.5oz Cointreau, 0.5oz Cassis, orange juice and cranberry juice in a shaker tin with ice, shake thoroughly and strain into a tall glass filled with ice!

Both the Extreme Beans and the Radical Rimmers are available in the Kitchener Waterloo area from Vincenzo's or online at www.extremebean.com/main/store.html.