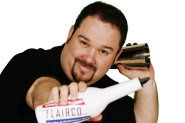 Where in the world is MIKE MCLEAN?


Mike McLean is one of the world's most experienced "FBA Certified" flair bartending competition judges. He travels to events all over the world promoting Flairco, the FBA, and the sport of flair bartending. If you see Mike on the road, be sure to say hello and share a drink with him!
Orlando Flair
26-Oct-2007
So it's the night after Quest finals and I stuck around for the Orlando Flair Challenge. Rodrigo Delpech and Cesar Diaz put this show together at a local club called Lux, mysteriously tucked away in a small retail strip mall not far from Universal. With only five competitors, this event shouldn't have taken very long to run through, but the manager wanted to wait till the club had more people in it, then it was GO, GO, GO!! Some things never change.

The club itself was pretty cool, with a nice stage and lighting for the competition. The winner was Christian Delpech, who narrowly beat out Danilo Oribe by six points. In third was Paul Trzcianko, with Nico Antivero in fourth and Brian Prestage in fifth place. The MC was none other than JD Spradlin. Big thanks to Rodrigo for making sure everything worked out as planned.

On a sadder note, I found out earlier today that one of the competitors from Quest, Justin Sczrpia from Seattle, was found dead across the street from his hotel early Thursday morning. Foul play was not suspected, but that is all of the information I have. To lose a member of our flair community is very tragic. I first met Justin at the Torch Lounge competition back in 2006. He never came to competitions to win, but always had a good time and was a great guy to hang out with. My condolences to his family and friends.

Believe it or not, this was my last scheduled competition for 2007. I'm going to have to go back through my event reports to get the final total, but I think I hit a new record this year. And from the looks of 2008, it should be just as busy!!
Quest Finals
25-Oct-2007
Another night, another incredible flair bartending competition.

It started off with the top Amateur bartender, Luciano Pontiroli, doing a show for the packed club. Then, the top three Advanced bartenders hit the stage, with Micah Dew taking top honours ahead of Steven Jarmuz and Rob Lyons. Finally, it was the Pro bartenders who rocked the house.

The day had started with the speed rounds. In the old days, if a bartender was able to make five drinks, including a blended frozen drink, a couple of multi liquor cocktail, a mixed drink, a chilled shooter and a beer, in under a minute, they were incredibly fast. Well, for this year's Quest finals, almost all of the bartenders broke a minute, with the best unadjusted time being 50 seconds. This is proof of why I would bet anyone that flair bartenders can out sell and out perform a regular bartender.

The Pro bartenders had a couple of different rounds to perform on stage. There was the Flair Round and then the Specialty Round. The Specialty Round is unique to Quest and basically throws the rules out the window to let the bartenders put on a fun and entertaining show.

As a whole, the Specialty Round was the most entertaining I've ever seen. From Benham Gerami's take on "The Handyman", to Dario Doimo's "Dodgeball", Rodrigo Delpech's "Dora the Explorer", Levi Donaldson's "Hulk Hogan" and Rodrigo Cao's "MC Hammer", I almost left a puddle in my chair because I was laughing so hard. Watching Levi dressed up as Hulk Hogan take on Joey Stepp (a former college football lineman) was priceless. Seeing Rodrigo Cao painted black, dancing the Hammer Time wearing parachute pants while shaking a cocktail was almost too much. This is definitely a DVD that I will look forward to.

When the numbers were calculated, Rodrigo Delpech was once again the champion, taking home a cool $10,000.00. In second place was Christian, with Rodrigo Cao third, Danilo Oribe fourth, Dario Doimo fifth, Levi Donaldson sixth, Tom Alley seventh, Adriano Marcellino eighth and Benham Gerami ninth.

Rebecca had flown down late Tuesday night and was at the VIP ladies table to watch the finals Wednesday night. She was a bit under the weather this morning with an early flight after only an hour's sleep and a whole night of drinking with Isabel Hall (Ken's wife). Also there for the finals were Ben Kempel and Katrina Plath, friends from Waterloo. It's always great to let people see what I do, especially at the big competitions like Quest.

Now I just have one more small local competition tonight before flying home early tomorrow morning. This will actually be my last competition for 2007. It has been a very long year for me with competitions, events and trade shows, so I'm really looking forward to a couple of months at home without having to work crazy hours and pack every couple of days.
Quest 2007
22-Oct-2007
So I've flown into Orlando once again for the Quest competition. This is the original international flair bartending competition and one of the biggest ones I'm involved with all year.

We have almost 100 bartenders in three different divisions, Amateurs, Advanced and Professional. This is also the last event on the 2007 FBA Pro Tour with the title very much up for grabs.

After a full 14 hour day, we managed to go through all of the Amateurs and Pros. It wasn't too bad, thanks to the incredible organization and staff we have at the event. Our Flairco Boot Camp bartenders did quite well, with Joey Stepp finishing in second place in the Amateur division. Look for Joey to be the Featured Bartender in November here on the site.

Tomorrow should be interesting with only Advanced division left. I'm also interested to see how Dean is feeling after being "that drunk guy" after the end of qualifying.
Rain Fall Showcase
16-Oct-2007
I just finished judging the Rain Fall Showcase here in Fairfax, VA. This is the second time this year that Jonas Mitchell from the Flair Underground has brought me in for one of their competitions. With all of the shows that Jonas and his crew have put together, the level of flair and number of competitors in the area has taken off. I'm really looking forward to what they put together for 2008.

The interesting part about this competition was no liquor sponsors. This meant that all of the bottles used were "competitor choice", meaning clear glass bottles with some tape and / or stickers. Hopefully there were some local liquor reps here to watch the show and step up with some sponsorship.

The competition was won by Nico Antivero, with Oscar Perez taking second and Lee Burgower in third place. All in all, very cool competition.

After a short flight home tomorrow, I only have a couple of days to get caught up on work before flying down to Orlando for Quest. Then, thankfully, it looks like I am done with competitions for the rest of the year.
HC Bar Giants finals
06-Oct-2007
Thankfully, I'm done. Too much flair makes Mike's head go boom.

We just announced the winners in the Havana Club Bar Giants Pro Tour competition after another long, long day. It started early this afternoon with the Rookie competition for German bartenders. The winner was Atalay Aktas. Despite this being his first competition, he was clearly the class of the field and should be a contender in the Pro Division next year.

After that we did the qualifying round for the Pro Tour event. This took the rest of the afternoon and early evening, finally giving us a break sometime after 7pm. In the finals, everybody brought their big stuff and for some it got ugly, for others it was sweet. All I know is that it was almost too much for my brain to compute. If I could, I would spend all next week watching the Simpsons or Family Guy to decompress. Not like it would ever happen, but it's a nice idea anyway.

So, when the smoke cleared, Danilo Oribe was the winner, with Christian Delpech and Tom Dyer right behind him in second place. The funny part is that I collected some of Danilo's prize money as he has an order pending with Flairco. Giovanni Doimo was fourth with Paul Trzcianko in fifth place. Rounding out the finalists were Josh Nemerow, Justin Keane and Ferhat Caliskan.

I'm sure the after party is going to be awesome, but I'm heading back to the hotel. The whole venue is a renovated factory that is uber cool (that's my German content for this post). The competition was held in a banquet style hall with stone floors, skylights on a metal frame and old metal equipment all over the place. The nightclub next door is more of the same, but a lot bigger. Okay, so who am I kidding. Maybe I'll stay for one mojito before going back.

Tomorrow is going to be another stupid long travel day. Fun wow. Jim and I need to leave the hotel by 5:30am to get to the train station in downtown Cologne. There was a strike yesterday, but apparently they are back to work till at least Monday. Big sigh of relief. Then we have a high speed (280kph) ride to Frankfurt, where the train station and airport are connected. My flight from Frankfurt to Toronto leaves at 10am, landing just after 12pm. Then it is either off to the racetrack or to family Thanksgiving.
Havana Club Day 1
05-Oct-2007
Just sitting at the judges table after yet another full day of flair. I think I have already judged more this week than ever before, and I still have one more full day to go. I might just be braindead by the time I get home on Sunday.

Today was the German qualifiers and finals for the Havana Club Germany Bar Giants competition. There were twenty-three of the best bartenders from across Germany fighting to represent Germany in the Havana Club World Finals in Cuba next February.

The bartenders each did a qualifying flair round, then the six finalists had to do a pour test, speed round and one more flair round. If you do the math, that is fourty-one rounds I had to judge today. After a late night and no sleep, all I want to do is take the bus back to the hotel and crawl into bed. The only downfall is that I have to go through it all again tomorrow with the Newcomer competition, then the Bar Giants Pro Tour qualifiers and finals. Ouch.

Two days and counting....
Bacardi Pro Flair
03-Oct-2007
Wow. I don't know how the bartenders do it, but the boundaries of flair as I know it have been pushed once again. What an incredible competition!!

The Bacardi Pro Flair finals were held in one of the coolest venues I've ever seen. After a day and a half of qualifiers, a field of almost eighty bartenders was narrowed down to only twelve. The club was packed, balconies and bleachers filled to capacity and the floor standing room only. In addition to some of the wildest flair I've ever seen, they had different acts on stage between competitors to entertain.

After three months off, Rodrigo Delpech was back in full force with a mind blowing routine and winning $20,000.00 USD. I gave him the highest score I have ever given out, 481 / 500. It was simply ridiculous and I really want to see it on video again to fully appreciate every bit of it.

Danilo Oribe had a very plain qualifying round and there was a chance he would miss the finals. Thankfully, he had a lot more planned for the finals and had the crowd going crazy with his routine on his way to second place. Another incredible show

Tom Dyer was simply outstanding. He spoke to Jim and myself at length after being disappointed with the results in Monaco and the difference was easy to see. If not for a few extra deductions, Tom was in second place. On my score sheets, he was only ten points behind Rodrigo, so you can imagine how good it was.

In fourth place was Justin Keane with a silky smooth routine, flipping everything he touched. The "Ukrasian" Vladymyr Buryanov, also the Flairco Featured Bartender for October, ended up in fifth place with an equally impressive show. Christian Delpech was a surprising sixth place after breaking a bottle in his routine. To Christian's credit, he only took one quick breath when the bottle broke and then powered through the rest of his routine. I've never seen composure like that before, a true professional!

Rounding out the rest of the field was Benham Gerami in seventh, Alexander Rodoman in eighth, Josh Nemerow in ninth, Paul Trzcianko in tenth, Viacheslav Gasukin in eleventh and Pablo Moya in twelfth.

This event would not have been possible without Julia and Jack from Dream Productions. They were the event organizers and did an incredible job. The level of detail and planning for this event was so perfect, it was hard to tell that this was their first time running a competition of this magnitude.

A huge round of thanks to Dennis from Bacardi for sponsoring this event. The standard has been raised as this event featured the largest prize fund in competition history at $50,000.00 USD.

Also, this event would not have run so smooth without the staff, including what seemed like hundreds of people working for Dream Productions as barbacks, interpreters, stage manager, etc,. Competition judges included Tug Van Den Bergh, Eric Holbert, Jim Allison and myself, Accuracy judges were Seyran and Alexander. A really good crew to work with.

Now I am on my way to Cologne, Germany for the Havana Club Bar Giants competition. A short flight from Moscow to Frankfurt, then a speedy train ride up to Cologne. Look for pictures in the gallery if I get some time to post.
The marathon begins!
30-Sep-2007
So I've made it to Moscow without any problems or issues. I flew from Toronto to Frankfurt, met up with Jim and hung out in the Lufthansa Business Lounge for a while, then on to Moscow where we had to wait through customs and crazy traffic.

The Bacardi Pro Flair competition starts tomorrow and despite a few big names dropping out at the last minute for a variety of travel and visa reasons, it should still be an awesome show. There is over $50,000.00 USD (so $49,900.00 CAD in case anyone cares) in prizes at this event and almost 100 competitors.

Today Jim and I are off to check out the venue and make sure that everything is ready. Tomorrow will be a 14 hour day of qualifying, followed by another 6 hours of qualifying Tuesday morning and the finals Tuesday night. After that, we fly back to Frankfurt and take a train to Cologne for the Havana Club Bar Giants competition. Thursday will be spent getting everything ready again, Friday is the German qualifier and Saturday is the International finals. Finally, I need to be on the train again by 6am on Sunday to make it back to Frankfurt for my flight home to Toronto.

For anyone who has ever asked to come along with me on a trip, I'm thinking this one would really make you change your mind. Seven more days and counting....
Skyy GFC Results
02-Sep-2007
Another night, another incredible world class flair bartending competition.

The Skyy Global Flair Challenge finals were held in a nightclub called Le Karement in the Grimaldi Forum in Monaco. As the location might suggest, let's just say that this was a very, very big budget event.

Despite a few delays, some interesting scheduling and a general disagreements between the judges on the overall results, we pulled it all together. Christian Delpech from Argentina was the winner, narrowly beating out Tom Dyer from the UK by less than two points. In third place was Danilo Oribe from Uruguay, with Sebastien Oguic from France in fourth, Mitsu Kaneshiro from Japan in fifth, Levi Donaldson from the US in sixth and Dario Doimo from Italy in seventh. The other finalists were Travis Kuhn from South Africa, Dark from South Korea and Huang from China.

We had to check out of the luxurious Vista Palace hotel today and rode the shuttle bus back to Nice. Jim, Katie and myself are staying an extra two days as trying to fly home on Labour Day monday was crazy expensive. So we strolled down the Promenade des Anglais after a late lunch to check out the beach and the French Riviera.

Up next is another twenty-four hours of traveling for the flight home, going from Nice to Frankfurt, Frankfurt to Chicago and finally Chicago to Toronto. At this point, I am really looking forward to getting there!
Skyy Global Flair
01-Sep-2007
Just finished the qualifying round for the Skyy Global Flair Challenge world finals here in Monaco. There was sixteen competitors from around the world competing in what will hopefully be the first of many for these events.

After bouncing around to a new hotel every day since we got here, Jim, Katie and myself settled in to the Vista Palace yesterday. This hotel is up on the mountain outside of Monaco (so technically in France), with one of the most incredible views I have ever seen. The hotel itself is insane. Somehow I got an end suite with a view down the mountain and along the coast towards Italy. I even have this view from my shower. Check out the pictures I have posted to see what I mean.

Now it's back to work. This should be a good one!