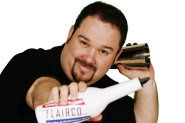 Where in the world is MIKE MCLEAN?


Mike McLean is one of the world's most experienced "FBA Certified" flair bartending competition judges. He travels to events all over the world promoting Flairco, the FBA, and the sport of flair bartending. If you see Mike on the road, be sure to say hello and share a drink with him!
Flairco Cup Day 2
13-May-2006
The two qualifying rounds for the Flairco Cup have finished and we are now looking forward to the finals tonight. There were some amazing shows and the competitors made it very hard on the judges to determine who made it through. Good luck to our finalists, including Sebastien Oguic from Paris, Jean Vasquez from Montreal, Benham Gerami from Las Vegas, Tom Alley from Las Vegas, Levi Donaldson from Kansas City, Tom Dyer from London, Justin Keane from Las Vegas and Rodrigo Delpech from Buenos Aries.

On Thursday night after qualifying, the whole crew boarded a 15 person stretch limo for the ride down to the Loose Moose. The man of many talents (competitor, barback and party host), Dan Dorion, took good care of everyone in his home bar. There was an impromptu competition with MC Dean picking the music for each bartender. The Bottleslinger DVD was playing on the big screens the whole night. Chuck McIntosh and Nick Rossi were on hand as well to preview the trailer from their upcoming Bottleslinger 3 DVD. Let's just say it is not one you will want to miss.

Last night after the finalists were announced, the group traveled to Toronto's entertainment district and partied in Republik Nightclub. Special thanks to Daniel Park for getting the group VIP'ed and in with no waiting.

We are expecting a huge crowd for tonight and are really looking forward to the finals!

Still Home?!?
05-May-2006
It seems a little weird to have been home for three weeks straight now. But, it has been a nice break from life on the road and has given me some time to get caught up on everything, Now I'm working on everything for the Flairco Cup competition next weekend. Still lots of little details to take care of, but it looks like this will definitely be the biggest flair competition ever held in Canada. We have some really big name bartenders coming in to compete, plus all the best hospitality that Toronto has to offer. The competition itself will be held on stage inside the Beer and Cocktail Show (www.thebeerandcocktailshow.com). The ad campaign is all over Toronto right now and all signs point to a packed house for next weekend.

Bottles & Buckeyes
13-Apr-2006

Just finished the second night of the Bottles and Buckeyes competitions here in Cleveland. What an awesome event! Last night in Dayton, Levi Donaldson was the winner, with Rodrigo Cao right there for second, Ati Tedesco in third, Colin Griffiths in fourth and Paul Trzcianko in fifth place. Also, Chris Myers won the rookie competition.

Tonight in Cleveland, it was Rodrigo Cao who was the winner, with Paul Trzcianko in second, Levi Donaldson in third, Colin Griffiths in fourth and Ati Tedesco in fifth place. Rodrigo also won the over all title in the Battle for Ohio!

It was great to meet and see many new flair bartenders compete, not to mention to see the progress that others have made since I last judged them in a competition. It never ceases to amaze and impress me how hard people practice and how fast they get really good!

Kudos to organizers Rob Turek, Derek Jones and Dave Neeson for putting together two well run events. Special thanks to the competition sponsors, Skyy Vodka. Midori, Miller Lite and Red Bull.

And now for some much needed sleep!
Back Home
05-Apr-2006
Well, after a couple of much deserved days off, I am back in the office and working on product sales and upcoming events. I have had a very busy start to the year with competitions in Atlanta, Hartford, Vegas, Havana, Miami, Vegas again and most recently in Odessa (Ukraine). My family and friends are always jealous of how much I travel, but they don't realize that I am working at these locations, not on holiday. Not to mention that while I'm gone, there is nobody else doing my work and it just piles up for when I get back. Thankfully, I am home for most of April and plan to get caught up on everything I need to get done.

Next up on the schedule is the Bottles and Buckeyes competitions next week in Dayton and Cleveland. I'm really looking forward to helping the organizers of these events build their local flair scene and hopefully make this an annual trip. There should be a great mix of local bartenders and travelling competitors.

After that, the next big event is our own Flairco Cup here in Toronto on May 11th to 13th. We have already got a bunch of competitors signed up and hope to fill all the spots. This will be our first big event here since the Bar & Beverage competition in 2001, so we are putting a lot of time and effort into making it a success!