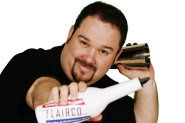 Where in the world is MIKE MCLEAN?


Mike McLean is one of the world's most experienced "FBA Certified" flair bartending competition judges. He travels to events all over the world promoting Flairco, the FBA, and the sport of flair bartending. If you see Mike on the road, be sure to say hello and share a drink with him!
HC Germany follow up
29-Aug-2006
Another successful event completed with a well deserving winner crowned. As mentioned in my last post, the Havana Club Bar Giants is basically an all German championships that uses a Legends format with a speed round, pour test round and flair round. The winner for the second year in a row was Mike "Sushi" Doetzer. In my opinion, Sushi has the skills, the originality and the preparation mentality needed to make the finals of pretty much any FBA Pro Tour event. Coming in second place was Matthias Knorr, with Sam Ngo third, Anna Knorr fourth and Daniel Sennert in fifth place. A big round of thanks to PAtrick and Stephan from Havana Club, along with Robin Weiss from Speedbartending for everything they did to make this event happen.

After spending yesterday couped up in our hotel because of constant rain, Jim and I were able to go out and walk through the city of Cologne today. We walked across one of the many bridges over the Rhine to the "Dom", a massive cathedral that took over 500 years to build and was the tallest building in the world when it was completed. The building is just massive and incredible. I hope to have some pictures posted in the photo gallery later this week (along with a bunch of other event pics that I haven't posted yet).

Now I'm just checking a few last emails before flying out tomorrow morning first thing and back in the office for an all day meeting on Thursday. On deck next is the Showcase competition in Kansas City, Missouri the week of September 4th. Then I will actually have a week at home, before leaving again for a competition in Portland, Orgeon and another the following week in Atlantic City, New Jersey.

Havana Club Germany
26-Aug-2006
I'm in Cologne, Germany right now for the Havana Club Bar Giants competition. This is my second year at this event and it is an all German championships using a Legends style format. Today, a flair only competition was held for "newcomer" bartenders. A total of 21 bartenders took the stage, with all different skills levels being showcased. The winner, and moving on to the championships tomorrow, was Branislav Sendrei. Coming in a close second one point behind was Walid "Angry Man" Missaoui, with Cem Ozkan in third place. I have to say that it is nice to see a competition of this level with as much corporate support as from Havana Club at this event. They are trying to push the skill level of German bartenders and reward the best overall.

We've just finished a judges meeting to bring everyone into the loop. We have a really strong staff here, with Jim Allison, myself, Fabio Milani, Tom Sipos and Philip Duff. Competition organizer Robin Weiss of Speedbartending is also here as it is sort of a quickie FBA certification meeting.

Anyway, I've made sure to behave myself tonight as the Pour Test starts at 9am sharp tomorrow morning. Thankfully, they've already made plans to move the event inside from the beach on the banks of the Rhine river.

I'll update again tomorrow night or Monday with the results.
Pinnacle
16-Aug-2006
The bottles have fallen, the hang overs are still in place and the extra clean up charges for the hotel are being tabulated. All that means that the Pinnacle of Bartending has completed another successful year.

This was my fifth year in a row travelling out for this event, run by the legendary Chuck McIntosh and Grant Riel. For anyone not familiar with Chuck, go to www.bottleslinger.com, watch the trailers, and you will get a bit of an idea what the last three days here have been like.

This year, the Pinnacle joined the FBA Pro Tour as a Level 1 event. This helped attract some big names, include Rodrigo Delpech, Levi Donaldson, Paul Trzcianko and Dorian Oldan. As always, the festivities kicked off on Sunday night with the "Meet & Beat". Unlike other competitions that have a question and answer session to work out an issues before the event starts, the Pinnacle likes to "beat" on as many competitors as possible, ensuring that they will step on stage hung over the next day. We started at the South Point Station Pub, the host of the competition, moved on to the Ocean Beach Club for some impromptu shows, and finished the night off with a luxury bus ride to the Vanilla Lounge. I would go into detail on what happened there, but let's just say it was messy and a little bit hazy.

The qualifying round the next day started mid afternoon to allow everyone to slowly crawl in. With 20 competitors, everything ran smoothly thanks to Grant and his amazing staff at the South Point Station Pub. That night, there was a Jager party back at the Ocean Beach Club. I don't think I need to go into detail on what happened there.

In the finals, it was a battle to see who could hit their routine the cleanest. The winner, with a whole boatload of new moves since I judged him last week in Puerto Rico, was Rodrigo Delpech. All I can say is that it was simply amazing. Coming in second place and maintaining his composure during his routine despite an early break was Paul Trzcianko. In third was Dorian "Ketchup" Oldan, with Levi Donaldson in fourth, Shawn Oana in fifth, Sean Story in sixth, our own Matt Jones in seventh and Tony Cogburn coming out of retirement for eighth place. After the winners were announced, we all headed over to Life nightclub for a special VIP party.

I have no idea how Chuck and Grant are able to put together such an awesome event without any major sponsor support. The fact that they do all this work year after year is a true testament to the spirit of flair bartending. Now where is that number for the rehab clinic.
Flair Masters
11-Aug-2006

I've just returned from the second annual Flair Masters competition in San Juan, Puerto Rico. It was another awesome event put together by Joel Vasquez of High Flair Entertainment. There is a strong growth movement for flair in Puerto Rico and I can see good things for the local bartenders there in the future.

The competition was held at the Brava Nightclub, inside the San Juan Hotel. Rodrigo Delpech was the overall winner, with another textbook incredible routine. Coming in second was Oscar Perez, with Dennis Zoppi of Italy and local bartenders Manny Picon Delgado and Hector Acevedo rounding out the top five. With strong support from sponsors like Bacardi, Smirnoff, Malibu, Rums of Puerto Rico and Finest Call, look for this competition to grow significantly next year!

The flight home was challenging due to the circumstances over in the UK. Not being able to bring liquids on board really didn't affect me, but I was worried that I would have to check my laptop bag with all of my electronics (laptop, camera, iPod, etc). Thankfully, that was not the case and they searched everyone's bag by hand before boarding the plane. Even with the really long delays, I was still able to get home last night after changing my flight. Jim was not so lucky and had to spend the night in Chicago.

I'm only home for two days before flying out on Sunday morning for Vancouver and the Pinnacle of Bartending competition. This will be my fifth year judging this legendary event. No doubt lots of "footage" will be taken for the next installement of the Bottleslinger DVD. No rest for the wicked I guess!
Griffith Wedding
06-Aug-2006
Last night, I had the honor and pleasure to attend Colin and Janet Griffith's wedding in Superior, Wisconsin. Being from the UK, Colin had a few family members and friends over, plus members of the flair bartending community to help fill his side of the church.

Janet's family was incredibly hospitable and even secured a beach front house for all the travellers to stay in. The guys went out and played golf Thursday, then hit the bar scene in Duluth for a different type of "golf" (a drinking game). Let's just say that my gums still don't feel right.

After a quick rehersal and BBQ, it was on to a game of football (soccer) with an international team taking on the US. Despite being outnumbered, the international team (including myself) managed to pull ahead and eventually won. Thankfully, the Brits excelled at the game as the rest of us weren't so good.

The wedding itself was really nice, with Janet's favourite colour orange all over the church. In attendance from the flair world was Levi Donaldson and Graham Warner in the wedding party, with Paul Trzcianko, Brian Zachau, Tia Rodriguez, Rodrigo Cao, Ati Tedesco, Martin Janica and myself all watching from Colin's side of the church.

Brian was kept really busy working the bar at the reception, with pretty much everyone taking a turn behind the Flairco bar decked out in orange. As a wedding gift, we had specialty labels made for some Flairco bottles that had Colin and Janet pictured together with the date, location and best wishes.

The night ended back at the beach house, with most of those people still passed out either on one of the five decks or in one of the eight rooms when we left this morning. After a ride from Levi back to Minneapolis, I'm flying straight to San Juan, Puerto Rico for the Flair Masters competition.

I'll update again after this competition.
Torch Competition
24-Jul-2006
I'm in beautiful Coeur D'Alene, Idaho and it's the morning after the first ever Torch Lounge competition. To say this event was a success would be an understatement. Despite only having seven competitors, they all put on amazing shows and the bar had a very, very busy night.

John Frazier was the man with the plan for this event and got myself involved early on in the planning and promotion. I have to give him full credit for taking the time, effort and investment in putting together a first time comp the right way. He and his wife Heather made sure that all of the competitors and myself were treated incredibly well and enjoyed ourselves.

The winner was Jeremy Labelle from Spokane. Watch out for this guy, he will be a force on the FBA Pro Tour in the future. In second, with a new record for drunk dials, was Terri Leeseberg. James Zachodni was a very close third place, with John Tibbs finishing in fourth in his first ever show. Jose Amador was a solid fifth place, with John Frazier in sixth and Justin Sczrpia in seventh.

I'm hoping that this event becomes a regular stop, as this was quite possibly the most fun I've had at a competition in a long time (and that's saying a lot!).



Nations Results
19-Jul-2006
Wow, what a night.

I think the Nations finals was the best show that I have seen so far this year. It was great to be back in Club Rio, the original home of the Legends competition. Many thanks to Eddie Perales and Anthony Alba for helping to make that happen.

The amateur and advanced divisions were first, with a few of the competitors showing their nerves on the big stage in front of a huge audience. Still, they all had amazing shows and it was a true testament to how far flair has come that these bartenders can get so good so fast.

Amateur Division
1st - Rob Lyons
2nd - Moe Isaza
3rd - Chad Lashmett
4th - Nick Houck
5th - Joel Singleton

Advanced Division
1st - Martin Schlamberger
2nd - Shaun Plummer
3rd - Dan Vandewater
4th - Douglas Duran
5th - Dan Dorion

Before the Pro finals, the Rio Flair Masters put on an incredible X-Men themed show. With all the flair choreography, costumes, lighting and effects, I can only imagine how many hours went into practising for this show. I'm pretty sure that this will be included as an extra on the DVD.

The Pro finals actually had a total of 11 competitors, all with a potential shot at the title. The only way I can truely describe the amazing content of this night is to hopefully see it again on video. The level of competition has been increasing for some time and this show knocked the roof off!

Pro Division
1st - Rodrigo Cao
2nd - Levi Donaldson
3rd - Vache Manoukian
4th - Rodrigo Delpech
5th - Justin Keane
6th - Colin Griffiths
7th - Paul Trzcianko
8th - Benham Gerami
9th - Nico Antivero
10th - Oscar Perez
11th - Tom Alley

Tom actually broke a bottle and cut himself badly with less than 2 minutes to go in his routine. He had the composure and piece of mind to finish his drinks, before ending his routine a minute early. Unfortunately, he cut a tendon in his hand and will be out of action for the next month. I hope he has a speedy recovery.

The after party was held in the Red Room Saloon, with a large number of the competitors, staff and spectators filling the bar till after the sun came up. Nothing like taking a taxi back to your hotel and getting caught in morning rush hour traffic.

All in all, another amazing competition put on by Jim Allison of the Flair Bartenders Association and Ken Hall of High Spirits Enterprises.



Nations
15-Jul-2006
In Vegas right now for the Nations competition. We have a 6 hour judges meeting today to go over our new rules structure. This is an awesome system that breaks everything down and has a points scale that helps score all levels of competitors. Hopefully we can get this information out to competitors to better help them prepare for these events.

After the meeting, we will be out on the town, including the mandatory stops at Carnaval Court, Shadow Bar, Kahunaville, Voodoo Lounge and the new Red Room Saloon (owned by Rick Barcode and Mike Taing). Looking forward to a night out with no responsibilities tomorrow morning.

The meet and greet is tomorrow night up in Voodoo, with the qualifying round for all three divisions on Monday. The finals will be in Club Rio on Tuesday night. Getting back into Club Rio, the original home of Legends, will be awesome!!

I'll update again after Monday.


Big Apple follow up
08-Jun-2006
I made it back home late last night, wow, what a week.

The Big Apple Showdown finals were an awesome show and all of the competitors were amazing. The trade show itself was very busy and we drew a huge crowd to watch. Congratulations again to Rodrigo Delpech for another mind blowing routine, winning this event. Nico Antivero came in second, with Colin Griffiths in third, Levi Donaldson in fourth and Oscar Perez in fifth place.

After the competition, we needed some time to pack everything up and get back to the hotel. Then it was on to the Broadway bar at the Marriott Marquee (overlooking Times Square), then a bar called Latitude where everyone truly got to unwind. It will be interesting to see how the night's activities look on video! We finished off the night with a traditional pilgrimage to White Castle, where I hit the first ever cheeseburger BAM. I just wish we had that on video.

On Tuesday, the whole crew went from NYC up to New Haven, CT for the first ever Salty Dog Saloon competition. These guys are an independent chain of flair bars on the East coast that really wanted to host a competition. With myself, Chris Cardone of the Bartenders Academy of NY and Rob Taylor of Bartrix.com as judges, a good number of the bartenders from the Big Apple Showdown competed in this fun event. Taking home first place for the second day in a row was Rodrigo Delpech, with Levi Donaldson in second, Nico Antivero in third, Colin Griffiths in fourth and Paul Trzcianko in fifth place. The festivities after the competition included much supporting of the product sponsors, an impromptu autograph session and Rob losing his battle with the mechanical bull. Good times for sure. Thanks to Mike, Cliff and Joel of the Salty Dog for putting together a great event.

All that was left was a long, rainy but uneventful drive home with no CD player and questionable radio stations across the top of upstate NY. Thankfully, an extended round of text tag kept me entertained and I finally made it back to the Flairco offices just before midnight.

Back to the grind for a few more weeks, next up is Nations in Vegas!

Big Apple Showdown
05-Jun-2006
Well, we've survived the first day of qualifying here in New York for the Big Apple Showdown. I drove down on Friday night from Toronto in the pouring rain. Jim Allison and myself spent all day Saturday setting up for both the competition and our trade show booth. After a night out in the city, including the odd questionable bar (all Ken's fault), we got back to the show early Sunday and were able to get a full schedule of competitors. Moving on from the qualifying round was Colin Griffiths, Nico Antivero, Tom Alley, Paul Trzcianko, Justin Keane, Rodrigo Delpech, Oscar Perez and Levi Donaldson. Really looking forward to the finals later today.