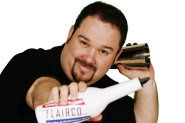 Where in the world is MIKE MCLEAN?


Mike McLean is one of the world's most experienced "FBA Certified" flair bartending competition judges. He travels to events all over the world promoting Flairco, the FBA, and the sport of flair bartending. If you see Mike on the road, be sure to say hello and share a drink with him!
Nations finals
30-Jul-2008

I know it's cliche, but WTF was that tonight!!!

And the new leader for the best flair show to date is now the 2008 Nations Flair Challenge.

The boundaries were pushed, the shows were incredible and the crowd went insane. After qualifiying, there were 6 guys who didn't make the show that were past finalists, if that gives you any indiciation what the talent level was like.

When the big $15,000.00 cheque was given out, it was Tomek Malek from Poland taking home the top prize. Tomek's routine was out of this world. In second place was Rodrigo Delpech, who now takes over the lead in the North American Pro Tour, as well as the overall tour lead. In third place was the "King of Qualifying" Justin Keane with the best routine I've ever seen him hit. Tom "The Professor" Dyer wound up in fourth place after a really original show. In fifth place was Danilo Oribe, with one of his trademark technical shows.

The after party was just as insane in a private suite inside the GVR, complete with a pool, a grill with private chef cooking up some monster steaks, a full premium bar (the Louis 13 didn't last long), a lounge with a huge plasma and the only toilet I've ever seen with a control panel.

After a long couple of days, I only have a few more hours to go before the redeye flight home!
Nations @ GVR
28-Jul-2008

It's crazy flair time as the Nations Flair Challenge is back in Vegas at the Green Valley Ranch. This competition features the wildest, nastiest, craziest flair of the year. We had a total of 86 competitors in 3 divisions, Amateur, Advanced and Pro, show up to claim their part of almost $40,000.00 in prize money!

The Pro Division has got all of the big names here. There are going to be some unhappy campers at the end of qualifying today as there is so much talent here some big names aren't going to make the finals tomorrow night.
NY Bar Show
24-Jun-2008

Due to the high cost of running a competition in New York, we are back at the NY Bar Show this year, but without the Big Apple Showdown competition. Instead, we have the stage with a combination of flair demonstrations, interactive seminars and a FAST Tender speed and accuracy competition.

Joining me on the trip was my fiance Rebecca and of course Dean. Unfortunately because of ridiculous hotel prices in Manhattan, we ended up staying out on Long Island. While cruising through Manhattan back and forth to the show, we saw a couple of celebs, including Philip Seymour Hoffman and Terrance Howard.

The crowd response in NY has gotten better every year and there was a lot of people who came specifically to watch some bottle flipping. The RDP Group put together another great show and we had a blast.

After the show ended on Monday, we raced out to Long Island to Mulcahy's in Wantaugh, NY to run the Battle of the Bottle competition as part of the FBA Advanced Tour. We had a great group of bartenders from the Northeast come out to compete. Special thanks to Devin Vilardi from Mulcahy's for his help in putting everything together. The winner was Brad David, with Nick Olliney in second, Moe Isaza in third, Jonas Mitchell in fourth and Joe Dormani in fith place.

Now we just have the long drive home through upstate NY!
Blue Blazer
18-Jun-2008

So I'm back in Vegas at the Blue Blazer Challenge, being held inside the Red Rock Casino. While the Red Rock is way off the strip, it's well worth the trip and one of the nicest casinos I've stayed in.

This year the competition was sponsored exclusively by DeKuyper Liqueurs, while gave the competitors even more freedom to come up with their creative cocktails. This event is one of my favourites to judge as it really showcases the creativity from the bartenders in both their flair and their mixology.

After some great flair and incredible cocktails (which I unfortunately didn't even get to try!!), Danilo Oribe was the winner. Oscar Perez was a close second with Rodrigo Delpech in third, Dario Doimo in fourth and Behnam Gerami in fifth place. Steve Dorsey won the mixology portion of the scoring, and Behnam also was awarded a special prize from the USBG for the best cocktail.

I can't wait to see it again on the DVD!
Flair Castle 4
25-May-2008

So after one whole day at home, I hopped on a plane and ended up in Kiev, Ukraine. I'm here for the Flair Castle competition, but it's moved from Odessa to Kiev this year to make it a bigger show.

After getting picked up in the airport, it was off to the private apartment I'm staying in. Apparently, this is a very busy time of year in Kiev and the hotels were very difficult to book. No matter, I'm in a nice little place all by myself that is a short ride away from the venue.

Tonight, I met with the competition organizers Vadym and Ruslan. They are also involved with the FBA, Vadym is the Director for Eastern Europe and Ruslan the representative for the Ukraine. After going through the rules and some questions I had, they were off to go get everything ready. Now, I'm still sitting here with some of the competitors getting a "quick" bit to eat.

Tomorrow is the competition meeting, followed by a brutal long day of qualifying and finals all together. With over forty competitors, this means I'll be on location from about 9am till at least 2am, and then need to leave for the airport for 7am for the full day that it will take to fly home. O the glamour of working internationally!
Superflair
21-May-2008

I'm here in Windsor at the Superflair competition for the first time. Hosted at the Beach Nightclub, this event combines some incredible flair with an out of control party. Hats off to Dan Hogan and Ron Philpott of the Beach for their hospitality.

This competition was part of both the FBA Pro Tour and the FBA Advanced Tour. The winner of the Advanced Division was Ryan Clark, just ahead of Paul Newnham, Nick Olliney, Brad David and Janet Griffiths.

The Pro Division was filled with the big names in the biz, with Rodrigo Delpech taking the title for his second time. Danilo Oribe finished a close second, with Oscar Perez in third, Dario Doimo in fourth and Colin Griffiths in fifth place.

Many thanks to Dan, Ron and their staff for a great time! Now I can't wait to come back next year.
Barstars Moscow
18-Apr-2008

So continuing on our international adventure, Jim and I flew out of Graz an on to Moscow for the Barstars competition. This is my second time at the event and third time in Moscow.

The competition is organized by a company called Barstars and sponsored by the KIN Group. For this year, they raised the prize money to $50,000.00 USD. I don't care what business you're in, that is a lot of money!

The qualifying round went reasonably well, with over sixty bartender competing for the top spots into the finals. We spent the almost a whole day fighting traffic to get there, then judging bartender after bartender. Thankfully, they got a second bar unit about half way through the day which sped things up.

The finals was an incredible spectacle. The flair competition was combined with a cocktail party for thousands of people. Flair is getting huge in Russia and the turn out was incredible. After some technical and organizational issues were sorted out, we made it through all of the competitors and even had a set by a popular Russian band thrown in as well.

When the confetti settled, it was Rodrigo Delpech that was the winner, with Danilo Oribe in second, a passed out Tom Dyer in third, Sebastien Oguic in fourth and Alexander Rodoman in fifth place.

After an eventful ride in the bus back to the hotel, the lobby became a makeshift bank as everyone was paid out. Now it's a couple of hours of sleep and then the flight back to Graz and home on Saturday.
AFC Finals
14-Apr-2008

0.16

That is what it came down to out of a possible 500 points after yet another crazy night of flair.

Let me preface that by explaining that this competition used a new type of rules format that did not include any direct deductions for things like drops, spills or breaks. The goal with these rules was to let the competitors pull out their biggest baddest moves. And trust me, it worked.

The finalists all went big, with some showcasing their stuff and others were just a bit off. A lot of bottles went flying off stage, including Legends champion Dario Doimo showering my equipment with broken glass. All in all, this made for one of the hardest nights of judging I've ever had to try and figure out the points and ranges for each competitor in the seven different categories.

In the end, it was Tom Dyer who edged out Rodrigo Delpech by exactly 0.16. It could have easily gone the other way, but we let the math do its job and produce the results. Tom threw some crazy stupid moves, but also had some bottles hit the ground throughout his routine. Rodrigo was rock solid in almost every category, but just a few points back of Tom in some areas. Without the direct deductions, it made the points for Smoothness and Technical Execution just that much more important.

Danilo Oribe had the crowd on its feet with a brilliant round that earned him third place. Marco Canova from Italy was right there in fourth, with countryman Andrea Fiore in fifth. Roberto Cuccurullo from France finished in sixth, with Dario Doimo from Italy in seventh, Cristian Cordoba from Argentina in eighth, Joao Paulo Rodrigues from Portugal in ninth and Stefan Haneder from Austria in tenth place.

Up next after a few hours of sleep is our first European FBA Judging seminar, followed by flights to Moscow on Wednesday for the Barstars competition on Thursday and Friday.
Austrian comp
13-Apr-2008

Another day, another city, another competition.

Now I'm in Graz, Austria for the Austrian Flair Combat competition. After an uneventful flight over and a long layover in Frankfurt I got to Graz and was met at the airport by the competition organizer Martin Schlamberger. I finally got some sleep once we got to the hotel, after marvelling at it's funky modular design.

Martin was working on Saturday night at a club called Night Flight, so we all headed out there to do a brief meeting, followed by a lot of drinking (a lot more than was expected anyway). After four bottles of rum, a long wait outside for a non existant ride back to the hotel, some freshly made pizzas back inside the club and a drunken stumble around my room trying to find all the light switches and close the sliding doors.

Today was suprising good, no hang over or head ache. We headed out to the qualifying location late afternoon and finally got everything started just after 8pm. This is Martin's first time running a competition and he was running around a lot trying to get everything in place. We helped where we could and gave him direction on what needed to be done to make the event run smoothly.

After almost thirty bartenders, it boiled down to some of the best in the business today. I can't wait to see what these guys pull out in the finals at it should set some new standards. All this and the big money event in Moscow is still a week away.

The finalists include Rodrigo Delpech, Danilo Oribe, Tom Dyer, Dario Doimo, Marco Canova, Cristian Cordoba, Andrea Fiore, Joao Paulo Rodrigues, Stefan Haneder and Roberto Cuccurullo.

On a side note, this event has been incredibly productive in terms of building up relationships with potential Flairco customers and FBA members. There is no way I would ever been able to contact or even find some of these guys and their companies without competitions like this.
Dakota's Challenge 2
09-Apr-2008

So we've made the drive from Sandusky over to Cleveland for a fundraising event called Dakota's Challenge. Dakota "Cody" Turek is the son of flair bartender Rob Turek. Dakota suffers from a rare form of autism called Landau Leffner Syndrome, also known as LKS. In November 2006, members of the flair bartending came together to raise money for Dakota's first brain surgery. The event was a tremendous success and help paid the expenses over and above the insurance coverage.

For tonight, almost the whole crew from the Kalahari competition is here to put on shows and support the various auctions. Flairco is helping out by running the merchandise booth, processing donations on Pay Pal and run a FAST Tender Challenge as a fundraiser. Dean also stepped up on stage and put on a show using one of our Floating Cocktail Shaker and the soon to be released Flairco Lite bottles.

Although I was kept running around all night, I think it was another huge success. While we didn't sell much merchandise, the FAST Tender Challenge raised just over $100.00, while I processed a ton of credit cards from the various auction winners and general donations.

Now we need to pack up and make the drive home. It should only take about four hours and I need to be at the Russian Consolate by noon to put in my tourist visa application. I need to get it processed right away as I fly out on Friday for the Austrian Flair Combat and Barstars Moscow competitions.